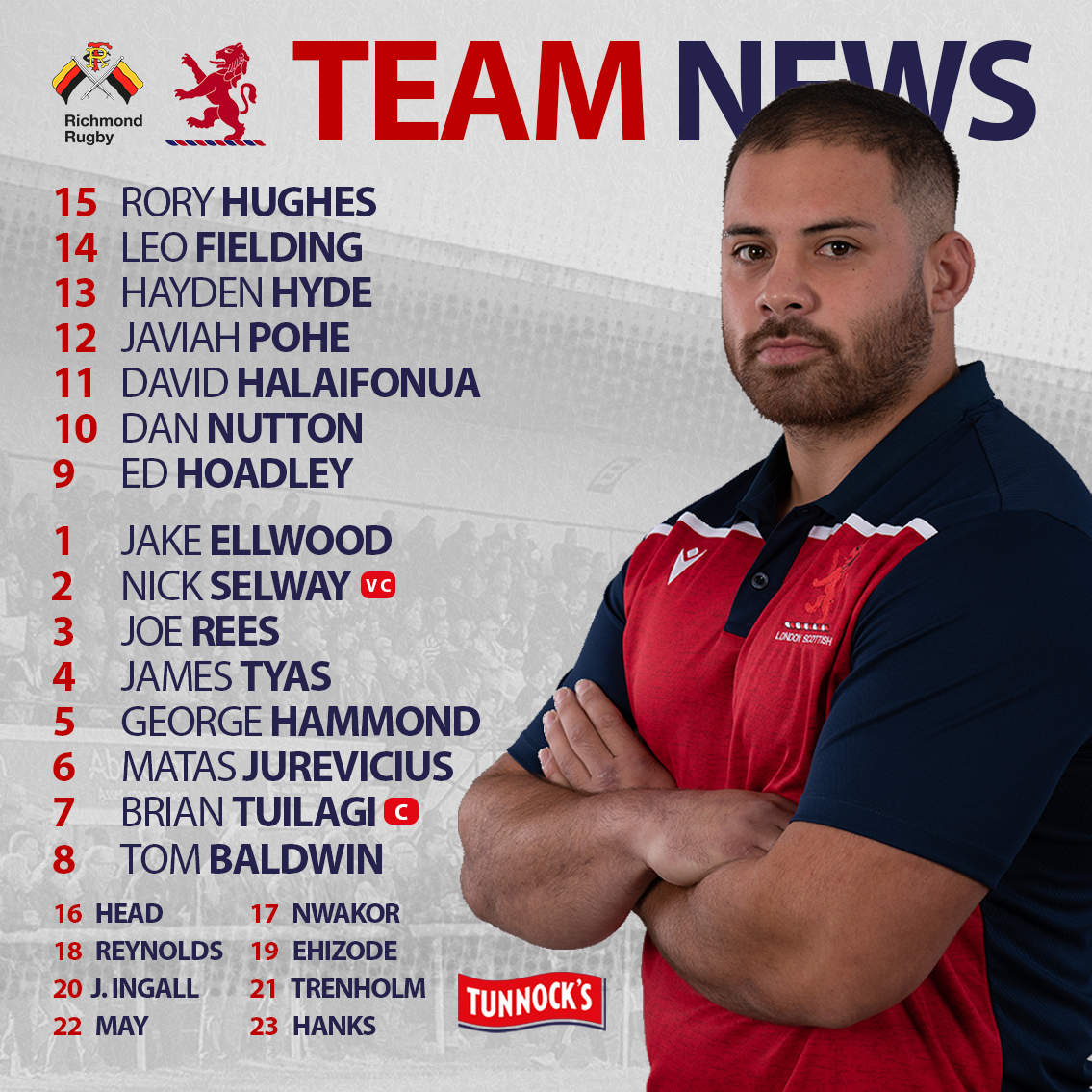 Brian Tuilagi returning to the side is one of four changes that we make ahead of facing rivals Richmond at the Athletic Ground tomorrow.
The captain comes in for Jack Ingall who is unfortunate not to start, but will be sure to have an impact as a finisher. Elsewhere Rory Hughes, Javiah Pohe and Dan Nutton all come into the starting lineup.
In the front row, the trio of Jake Ellwood, vice captain Nick Selway and Joe Rees all keep their places after dominating the set piece last weekend.
In the second row, James Tyas and George Hammond will continue to dominate the airways at the lineout and will be supported by Mates Jurevicius, Tuilagi and Tom Baldwin in the back row.
At halfback, Ed Hoadley keeps his spot and is joined by Dan Nutton at flyhalf who has impressed in training.
In the centres, the power of Pohe will compliment Hayden Hyde and out wide David Halaifonua continues on the left wing. Leo Fielding moves to the other wing, allowing Rory Hughes to come in at fullback.
Ahead of the derby day encounter, Matt Williams explained the significance of the game, some of the selection decisions and the difference the supporters will make at the RAG.
"Playing Richmond at the Athletic Ground is the match that we as staff, players and supporters alike, always search for when the fixture list is announced. However, we also have to understand the importance of not letting the emotion of the weekend distract us from our systems and processes.
"Being the 'away' team and with the current form book at play it keeps the pressure firmly on Richmond's shoulders which has allowed us to make a couple of bold selection changes to the starting XV and allow the boys to remove the shackles and play.
"With our captain Brian returning from injury this week, we are also giving JP his first start at 12 and bring Rory back in to the starting XV. He'll play at fullback for the first time, with Leo pushing to the wing. Also Dan Nutton will be starting at 10 which will bring a different type of threat to Richmond.
"We've got to give Richmond a lot of respect at the moment, they're playing some good rugby and throwing the ball around well, but I'm confident in our boys and at some point soon the bounce of the ball will turn in our favour. I can't wait for a great battle.
"Being the away team it's so important that we hear the Scottish support. There will be a lot of red and black on display so bag pipes and vocal chords at the ready please!"
If you haven't got your tickets for the game yet, you can do so by clicking here. Please be aware, although at the Athletic Ground, this is technically an 'away' game so all ticket requests and issues are dealt with through Richmond.
Starting team to face Richmond:
15. Rory Hughes
14. Leo Fielding
13. Hayden Hyde
12. Javiah Pohe
11. David Halaifonua
10. Dan Nutton
9. Ed Hoadley
1. Jake Ellwood
2. Nick Selway (vc)
3. Joe Rees
4. James Tyas
5. George Hammond
6. Matas Jurevicius
7. Brian Tuilagi (c)
8. Tom Baldwin
Finishers
16. George Head
17. Maurice Nwakor
18. Curtis Reynolds
19. Ehize Ehizode
20. Jack Ingall
21. Will Trenholm
22. Laurence May
23. Sam Hanks