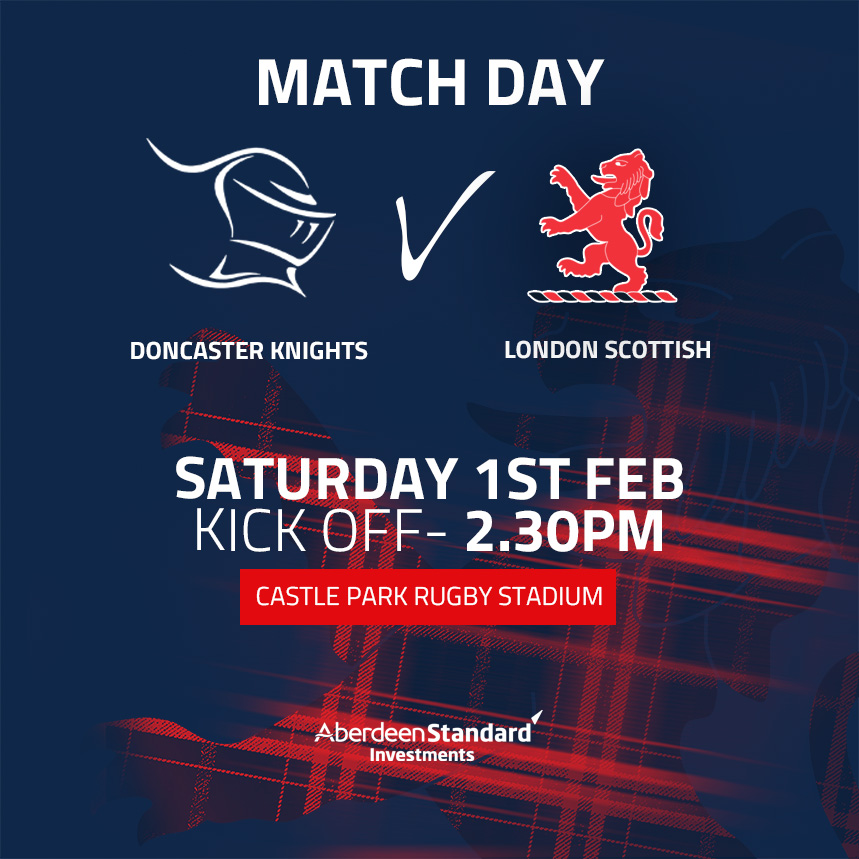 London Scottish travel up North to take on Doncaster Knights at Castle Park this Saturday, kick off 2:30pm.
The Exiles will be looking for their first win since December, having suffered home defeats to both Bedford Blues and local rivals Eailing Trailfinders, and a frustrating away loss to Coventry.
The Knights are another team the Scots haven't faced this season. Last year's encounters both went in favour of the men from the North. However, Scottish were able to pick up losing bonus points in both matches.
With three fixtures away next month at Doncaster Knights, Ampthill and Newcastle Falcons in the quarter-finals of the Championship Cup, Scottish will need to get used to being on the road again.
It's set to be a chilly game at Castle Park so make sure you come wrapped up warm in Scottish kit! Head over to our online store to view the full catalogue of Scottish stash.
Wounded Lions 500 Challenge
On February 6th, London Scottish are joining ex-Scotland captain and London Scottish player, Rob Wainwright, in cycling two legs of his Wounded Lions 500 challenge from Twickenham to Murrayfield to deliver the match day ball for the Calcutta Cup. The challenge is in support of Doddie Weir and Tom Smith and their foundations My Name'5 Doddie (for MMD) and 40Tude (bowel cancer).
The seventeen strong Exile team will set out from the Athletic Ground at 10:15am and travel over to Twickenham Stadium to join Rob and the rest of his team. All donations large and small make a difference. Please give generously on our own JustGiving page by clicking HERE.
The Scottish Minis are also getting involved with a challenge of their own on Saturday 1st February with a bike ride around Richmond Park.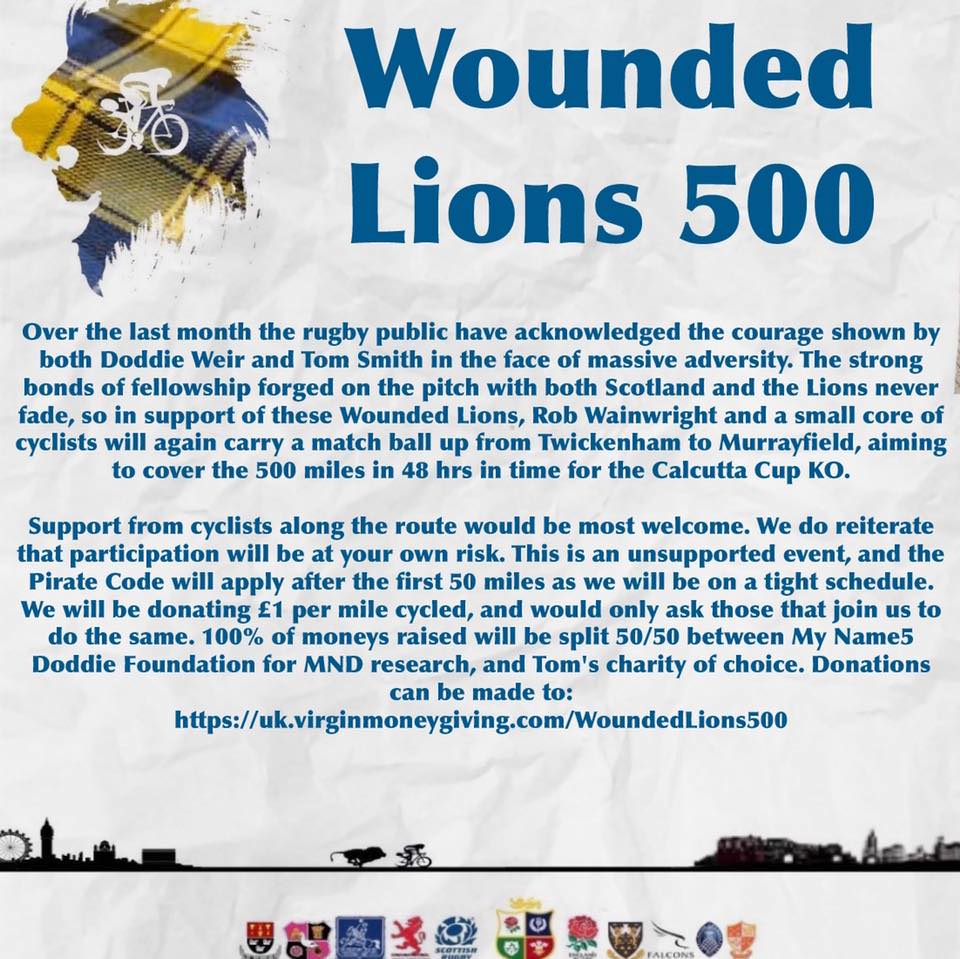 Next match at home
We return to the RAG on February 7th to take on Nottingham for our final Friday night match of the season. Don't miss out on our very last Curry Night under the lights by booking into pre-match hospitality NOW!
With only five matches left at home make sure you come along to watch what is set to be an entertaining encounter. The Scots having won at home against the Midlands based side in September and then losing twice away at the Bay in the League and Cup respectively.
The Exiles will be looking to claim their first win at home since November and make it two from two at home against the men in green. To book your tickets click HERE!
New Website
We're delighted to announce the launch of our new website developed by our creative partners MMD.
We would love to have your feedback, and any suggestions that will make the website as user friendly, interactive and informative as possible. Please contact Digital Media Manager Jessica Tolkien at jessica.tolkien@londonscottish.com.
We apologies for the lack of updates on the old website through this transition period, which lead to some communication breakdown, but we hope the new site is worth the wait!
200 Club Draw
The winners of the January 2020 200 Club draw made at the Ealing game on Friday were:
First Prize, £1,000 Number 200 – Gerry Malloy
Second Prize, £250 Number 30 – Nathan Palmer
6 Nations Championship – Ticket Update from Doug Cowie
Apologies for the delay in getting tickets out to those of you that have applied for the upcoming matches. This has largely been due to delays in the tickets arriving from the respective Unions. However, I can give you a quick update on the current status:
Ireland v Scotland – all tickets sent out via post
France v England – all tickets sent out via post
Scotland v England – all tickets sent out via email direct from Scottish Rugby.
Scotland v France – all tickets sent out via email direct from Scottish Rugby.
(any returns for the above two matches will come direct from me)
Tickets for the five matches below are currently being allocated and will be posted out in the next few days to those successful in the ballot.
England v Ireland
England v Wales
Italy v Scotland
Italy v England
Wales v Scotland
February Half-Term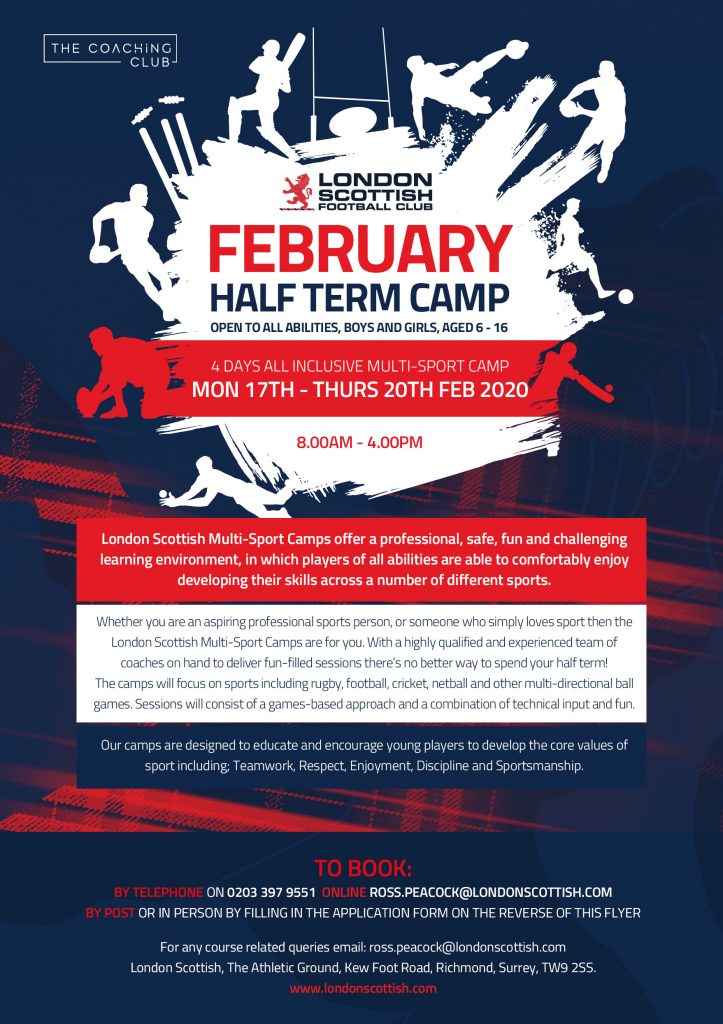 To keep your kids active and entertained during February Half-Term, check out our Muli-Sport camp NOW.
The camp will focus on rugby, football, cricket, netball and other multi directional ball games. Sessions will consist of a games-based approach and a combination of technical input and fun.
With a highly qualified and experienced team of coaches on hand to deliver fun filled sessions there is no better way to spend your school holidays!
To book your place either call the office on 0203 397 9551 or book online by clicking HERE!
For camp related queries please contact Ross Peacock at ross.peacock@londonscottish.com