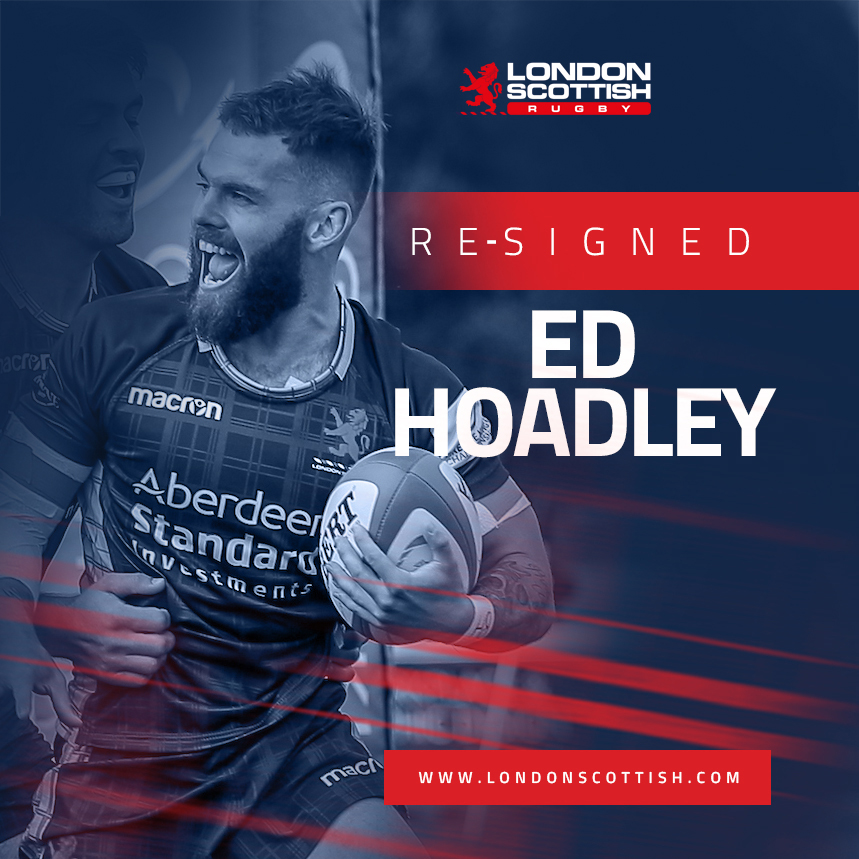 London Scottish are happy to announce that scrum-half Ed Hoadley will stay with the Exiles for another season.
Hoadley, who has represented all London Exiles clubs after playing for both London Welsh and London Irish, picked up his 50th cap for Scottish at home against Nottingham in February this year.
During the Scots last two seasons Hoadley has been on loan to National 1 side Chinnor, where he played a part in their rise up in standings during the 2018/19 season.
Having returned to play at the Athletic Ground in March last year, Hoadley started and scored against Doncaster Knights before picking up a season-ending injury.
Once returned to full fitness, the scrum-half was a consistent starter for Chinnor and helped them finish fourth in the National 1 table last season.
On remaining at the Athletic Ground for another season, Hoadley said: "I'm very happy to be staying on at Scottish. With all the changes happening I think it is a very exciting time to be a part of the club. I'm looking forward to running out and wearing the Scottish jersey once again.
"When I heard Matt was coming in as Director of Rugby it was exciting news. I've worked with him before and I like how he goes about things."
Joining us in the Championship this season are our fellow tenants at the Athletic Ground, Richmond and Saracens.
"Those two games against Richmond are the biggest of the season. You can't look at it any other way. You must win.
"Saracens coming down will be a challenge getting to play against international players. You don't get to do that every week in this competition, so getting those one on ones against your opposite number and seeing how you come out will be a good test for everyone," commented Hoadley.
Matt Williams commented: "Ed is a player I like a lot in both attitude and ability. I've known him for a long time and he has played several games for me over the last two seasons. He understands my philosophy, culture and how I like to attack rugby.
"I'm delighted he's agreed to stay on where I think he'll flourish this season. We are blessed in the number nine shirt and it will be exciting to see the boys fight it out."