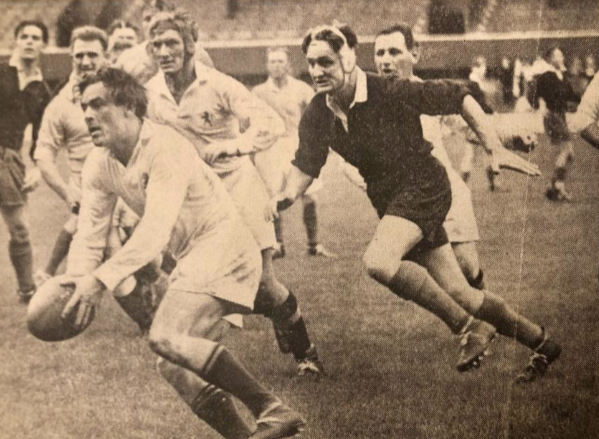 London Scottish will remember 2020 for all the wrong reasons. With the death in September of Gordon McKenzie-Wylie, known to us all as "Mac," London Scottish has lost four of its captains from the great days of the late 1950s and early 1960s. Mac was chosen to lead the side for the 1958-59 season, succeeding future President Eric Cruickshank and preceding future SRU President Iain Laughland, both of whom passed away earlier this year; Robin Marshall would follow only weeks later.
Gordon was born in Paisley in 1930. He played his schoolboy rugby and cricket to a high level at Paisley Grammar School and William B. Barbour Academy. Blessed with three sisters, and after the premature death of his father, and a stint in the Royal Engineers for his National Service, Gordon left Scotland for the bright lights of London, and under the pretence of attending university, he joined the motor trade and the 21st SAS.
In 1952 he joined London Scottish, his first great exile love, and soon found his way into the 1st XV.
Whether playing for Scottish, the Public School Wanderers or even in Paris for Racing Club, for his second game in a weekend, Mac became renowned as a formidably hard lock forward despite his sartorial off-field appearance and wicked sense of humour. Because of his physicality and lineout skills, he earned himself a series of Scotland trials, though these never led to a cap.
Mac was appointed captain of London Scottish For the 1958-59 season. He inspirationally led a successful team, as recorded by Frank Morris in the Club's centenary History:
"Mac Wylie had the benefit of newcomers like [Ronnie] Thomson and [Iain] Laughland and [Jim] Shackleton and the old guard figures of Jack Cameron, Jock Davidson and DWC Smith… The results were a tidy14 wins and 14 defeats… One of the highlights was the London Scottish v Col Lyall Gant's International XV at Twickenham on September 6th, when London Scottish fielded a side containing 11 internationalists and one future cap against the London Scottish President's full international team…"
The Club's illustrious opponents, featuring among others the legendary Jackie Kyle, triumphed 24-11 but most importantly the match raised £1,200 for the appeal funds that built the new (and still current) stand at the Athletic Ground after fire had destroyed the old one in 1957. The match was the sports page lead in the Times on the Monday: Mac (seen above in blue about to pounce on England scrum half Johnny Williams), having proudly led his side in his first match as Captain onto the Twickenham turf, was injured during the course of the game, and missed the club's next encounter just four days later at Richmond when the RFU snd SRU Presidents opened the stand. However, he had done his bit – during the week at work, mobilising the debutante stenographic services of the Rootes Group, to assist in fundraising for the new stand. He never knew that Scottish were moving on from the Athletic Ground.
Later during his eventful captaincy season, he broke 3 ribs playing for Public School Wanderers during their West Country tour. He confounded doctors by passing a fitness test less than 30 days later, having played himself in during a guest appearance for a junior Saracens team, the day before his medical.
In the early 1960s Mac left Rootes Group for Mercedes-Benz where he remained for the rest of his working life. For many years he ran the 'S-Class' fleet selling Mercedes to the great and the good. The job conferred a chauffeur 'Charlie', who, often as not, was forced to sit in the back while Gordon drove at prodigiously high speeds. He was never without a new Merc and enjoyed driving fellow members to and from away games.
In 1966 he married Susan Weiner and built a house at Wentworth. When not playing golf he could be found tending his beloved roses.
At the start of the 1970s, and after his divorce, Gordon joined the Caledonian Club which was to become his spiritual home for almost the next fifty years. He was a director of the Caledonian Club Trust from 1997-2002.
Later that decade he broke his neck playing for the Picts against Rosslyn Park, but this was not to be his last game for the club, and he continued playing well into his 50s. Malcolm Gillespie recalls: "A Picts' tour to Aberdeen showed his determination. Straight after one game, he dressed in his finery and drove back down south to attend a business function." In addition to his year as Club Captain, he returned to serve on the Club Committee from 1973-1982, and was then appointed Convenor of Mini Rugby.
In his latter years and well into his eighties, Gordon became a fixture at Queens Club where he could be often found in the gym, or practising his serving on an empty court before a needle match.
Gordon died peacefully. He leaves behind his son Adam, grandchildren Callum and Flora and the love of his life Sally, companion for the last 15 years, whom he first met in 1958 at Rootes. It is intended a Service of Thanksgiving will be held at St Columba's Church of Scotland, Knightsbridge, when restrictions allow.
Gordon McKenzie-Wylie, 29 March 1930 – 20 September 2020
[photo courtesy of The Times]