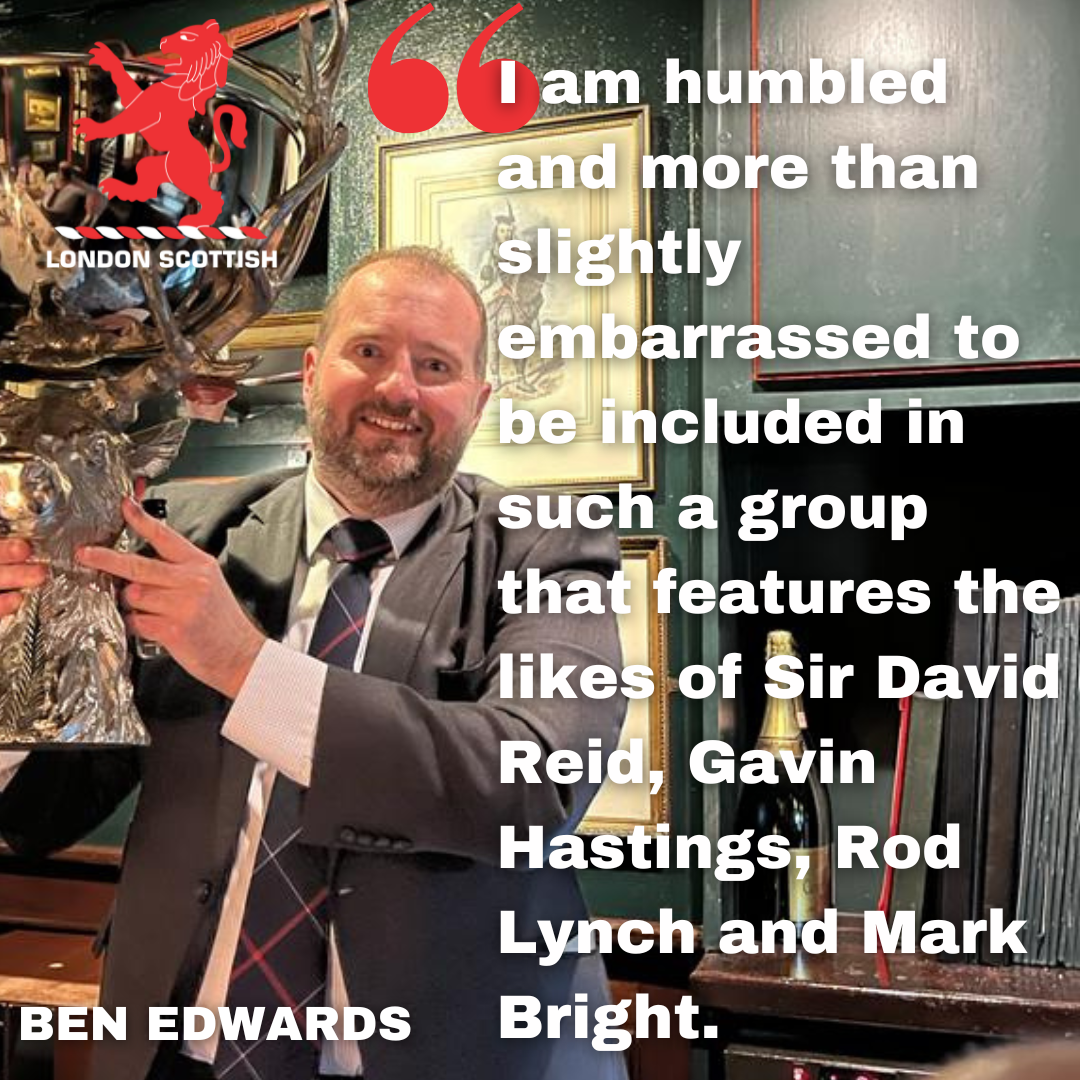 London Scottish is delighted to announce the first of its inductees to the London Scottish Hall of Fame for 2023, Ben Edwards.
Ben began his London Scottish journey in 2002 having been bought along to Scottish by a fellow Australian from his Sydney club to play prop for the ExtraB's. In the years Following Ben took over as skippered and played for many teams within the club, so long as he didn't have to go to training!
While playing, he organised several international tours including the highly successful 2011 club tour to the WW1 Western Front battlefields playing London New Zealand on ANZAC day as guests of the town of Passchendaele.
Ben joined the LSFC committee serving as the first Chair of Amateur rugby in the early 2000's and has since held various posts within the club, most recently as President of the London Scottish Lions before handing over to Doug Cowie this season.
Unquestionably the model club man, well liked by all and a London Scottish Legend through and through.
Commenting on his upcoming induction, Ben was characteristically modest and humorous. He said "Like everyone who puts their hand up to skipper or manage the ExtraB's, playing on rubbish pitches in hand me down kit you washed at home in your flat, I got into it for the recognition… In all seriousness, I am humbled and more than slightly embarrassed to be included in such a group that features the likes of Sir David Reid, Gavin Hastings, Rod Lynch and Mark Bright.
I look forward to the evening and hope I can still sit on my usual table right at the back close to the bar."
We look forward to inducting Ben to the Hall of Fame on Thursday 7th June surrounded by his friends, family and peers. To secure your space at this year's event please email events@londonscottish.com, tickets are £170pp and can be purchased as a table of 10 or 12.
Please click here for more information.