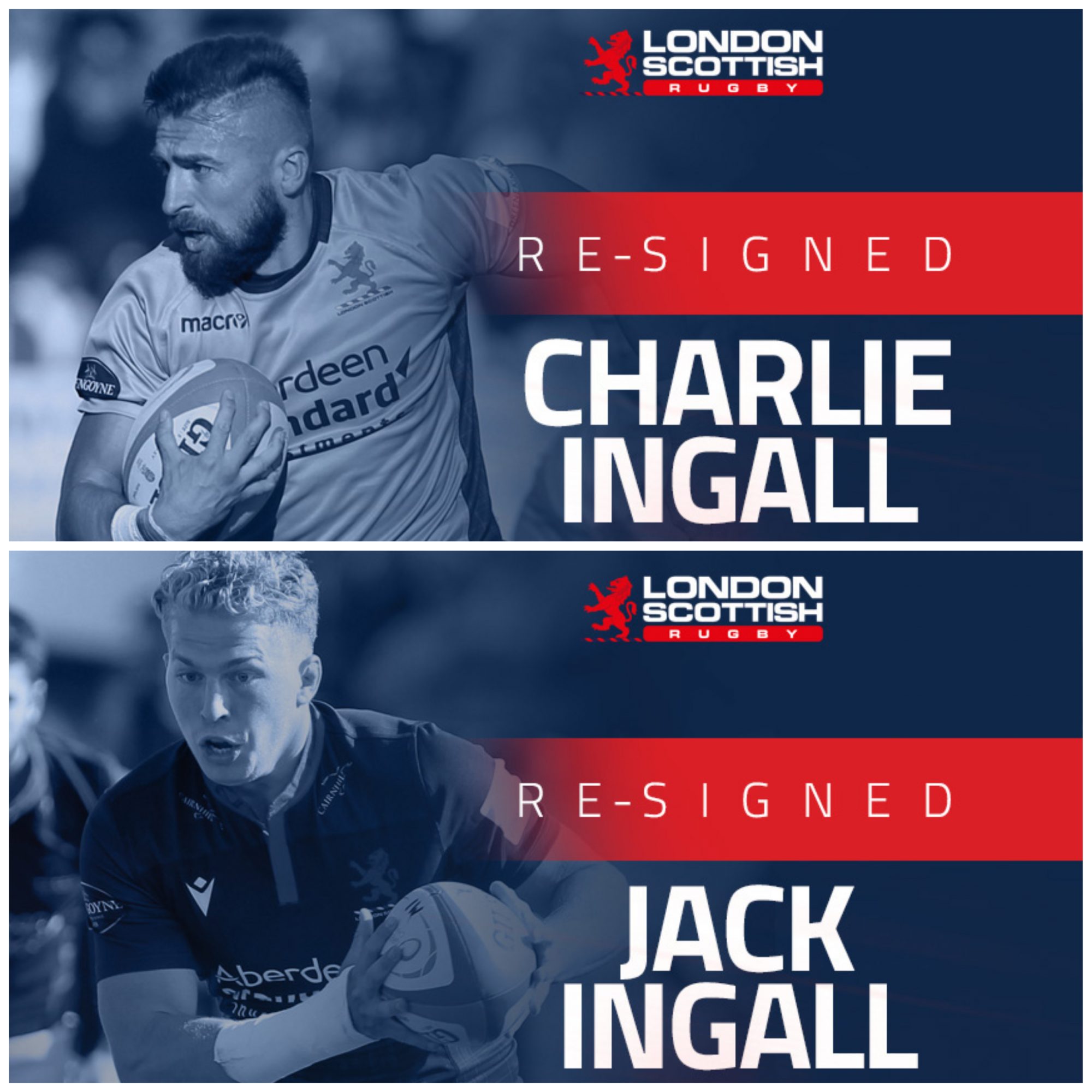 London Scottish are happy to announce the re-signing of brothers Charlie and Jack Ingall for the 2020/21 season.
Charlie, aged 30, is the oldest of the the two brothers. Before joining the Exiles, ahead of the 2017/18 season, he had spent five seasons with Premiership side Sale Sharks, having had previous stints with, London Wasps and Newcastle Falcons.
Previously 'Players' Player of the Season' in 2018/19, his last season for Scottish was disrupted by injury. The former Ireland U20 will bring his experience to next year's squad as well as his ability to play across the back three and at outside centre.
Younger brother Jack, aged 22, is a dynamic flanker who is a former Wellington College Captain. Before joining the Scots for the 2018/19 season he spent time at London Irish Academy and played for New Zealand Crusaders' Academy side, whilst also playing provincial rugby for Canterbury.
Sadly the back rower picked up a serious knee ligament injury during pre-season 2018/19, which saw him miss the whole campaign. He came back stronger, however, and showcased his talent last season.
On re-signing for Scottish and playing together for another season Charlie said:
"I'm happy to have re-signed with Scottish. I'm looking forward to getting started with the new squad and playing some good rugby.
"Playing with my brother is always a privilege – he's a great player and I'm excited to be back on the pitch with him."
Jack added: "I'm looking forward to returning to the Club and getting back into rugby. With last season cut short because of Covid-19, I'm keen to get back training and playing in a Scottish jersey."
Looking ahead to taking on old rivals Richmond and newcomers Saracens, Charlie said: "London Scottish against Richmond is always a rivalry to get excited about. I have played Saracens a few times before and know it's always a big contest, but it's also an opportunity to take a big win and I'm sure we will be aiming for that."
Jack continued: "It's always good to play in big rivalry games, it usually leads to a bigger crowd and better rugby so I'm eager to be part of that.
"Saracens will definitely be a contest, but I think every team in the Championship will enjoy having a pop at them. Being an underdog in big games also makes them a bit more enjoyable. It takes the pressure off a bit."
Both have put their time away from the rugby field to good use by putting in a lot of training whilst also working hard away from the pitch on a business venture.
On working with new Director of Rugby, Matt Williams, and Head Coach, Stevie Scott, Charlie said: "I'm looking forward to working with Matt. He is making positive changes at the Club. I like his vision of how we will play and the way the Club will be run. I've worked with Stevie at both Sale and Scottish, I know he brings real quality."
Director of Rugby, Matt Williams, commented: "I'm delighted the boys have agreed to stay on. Charlie had a very unfortunate season last year due to things out of his control, but he was one of the league's shining lights the year before and I'm confident he will be back to his best now he is fully fit again. I'm expecting big things from him this season!
"Jack is an old school number 7; he has a huge work rate and is really good over the ball. Having spoken to couple of boys back in New Zealand, he comes with a great amount of credibility and respect for his performances over there. Even though he was limited in opportunities last season, I believe he is a player that could blossom in the right environment."