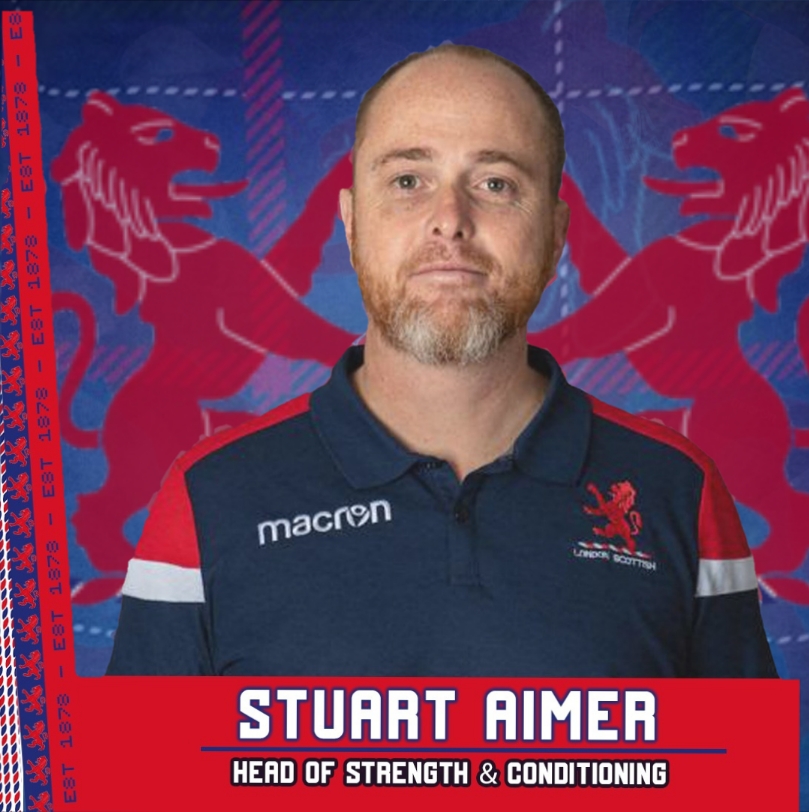 Although the season is yet to start, the London Scottish rugby department remains busy training at Maidenhead RFC and we are delighted to announce the appointment of Stuart Aimer as the new Head of Strength and Conditioning, where he joins Rachel Hill, Assistant S&C coach and Ben Selway, Nutritionist.
Hailing from South Africa, Stuart 'Coach Stu' moved to the UK during his mid-twenties and has settled in Richmond with his wife and three children. He has been a fan of rugby ever since school and has attempted to play for numerous teams, with varying degrees of success.
Stuart's first S&C role was for Kings College School old boys. He was with them for several years before working at the London Scottish Academy and senior amateur's. He later took over the programme aiding young players to transition from the Academy into the London Scottish squad.
In 2018, Stuart was invited by Herbert Mensah, Director of Rugby for Ghana Rugby, to support the players in their preparation for the African Sevens Tournament in Tunisia later that year. Stuart told us how valuable his time with the Ghanaian team; "It was a great experience to help the Ghanaian rugby players develop and progress their passion for rugby and put Ghana rugby on the map. The preparation for a match between Ghana vs Ivory Coast made a significant impact in our ability to compete at the top level in 15's rugby. The Squad showed how hard work, commitment, and love of the game can go a long way to achieving your dreams."
Having caught the Rugby 7s bug, Stuart moved his attention to helping the Jamaican UK Crocs with their strength and conditioning. Although based in the UK, the aim of the Crocs is to help identify and develop UK based Jamaican rugby players and feed them into the national side. In 2018, many of the players Stuart had worked with represented Jamaica 7s in Hong Kong and more recently at the 2019 Regional American North competition, which doubled as an Olympic qualifier. Out of the ten teams involved, Jamaica came second, meaning they qualified for the Repechage ahead of the delayed Tokyo games next year.
His passion for rugby and his experience of 7s motivated him to further extend his education. He is currently studying for an MSc in Strength & Conditioning at St. Mary's University, Twickenham; his dissertation investigates how high volume power training affects the repeated high intensity efforts in amateur rugby 7s players.
Away from the game, Stuart is the proprietor of the Tribe Performance Gym based in the Richmond Athletic Ground, where he runs one to one and group training sessions, assisting both athletes and weekend warriors to reach their full potential. Away from Rugby, Stuart's other sporting love is cricket and was fortunate to attend the 2019 Cricket World Cup final where the infamous the 'super over' secured England victory.
Stuart has been with the Exiles since training started in September and is fully immersed in getting the squad to full fitness ahead of return to play; all S & C is carried out within Covid protocols and guidelines.
Director of Rugby Matt Williams commented:
"We are delighted to have 'Coach Stu' on board and he has fully embraced the positive ethos and team spirit we are building here at Scottish. It's a hugely challenging time across rugby to keep players both physically and mentally engaged, but the hard work and thorough application of Stuart and his team is achieving noticeable dividends. He has become a superb asset to our preparation and I'm eagerly looking forward to the next block of training and witnessing the progress that brings."
Xander Chevallier