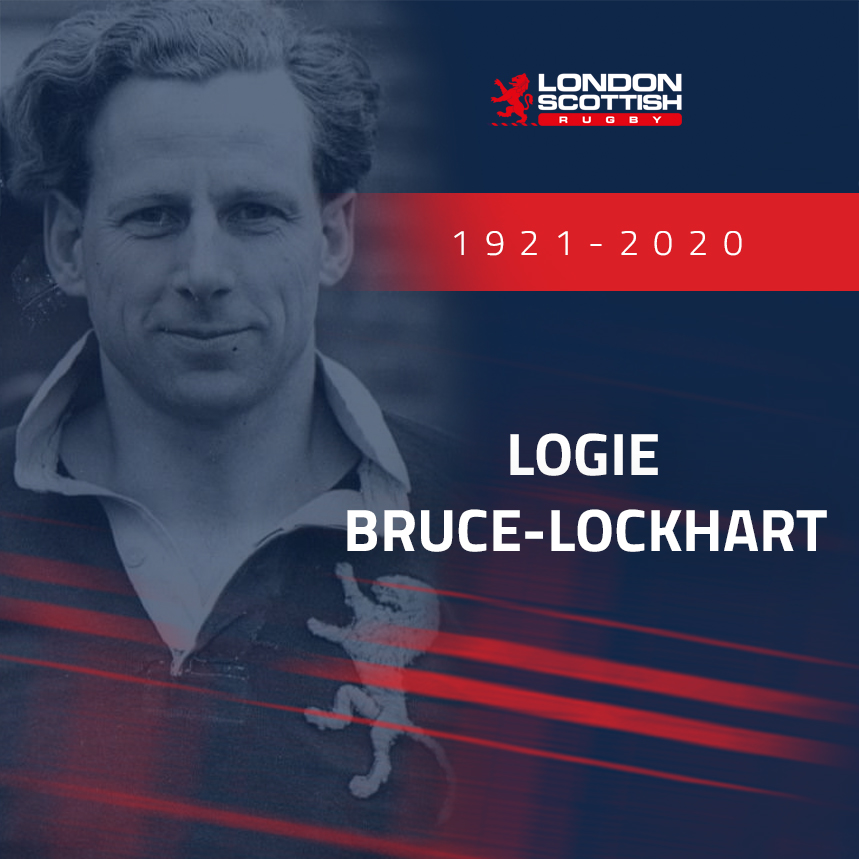 One of a notable family of players and schoolmasters, Logie was described in his day as the finest attacking stand-off in the Four Countries, though Scotland's selectors were never so impressed and gave him only five caps between 1948 and 1953.
Thus Frank Morris, in the London Scottish Centenary History, encapsulated one of the club's great players and servants who has died aged 98.
Logie Bruce-Lockhart was destined for two things: a career as a schoolmaster and rugby at London Scottish and Scotland. His father, John Harold (Rufus), played for club and country, one of the handful of players capped both before and after the First World War, before his teaching career culminated as Headmaster at Sedbergh School. His uncle Norman might have done too, but, having played alongside his brother at London Scottish, all such thoughts were ended at the Battle of Loos in 1915. In due course, Logie's older brother Rab trod in the paternal footsteps – rugby in the 1930s at Cambridge University, London Scottish and three times for Scotland before the Second World War intervened. For Rab, schoolmastering would eventually lead to 16 years as Headmaster of Loretto.
Logie was the fourth son of Rufus and Alwine Mona Ivy Brougham. Born in Rugby when his father was a master at the school, he moved inevitably from Cargilfield Prep School in Edinburgh to Sedbergh, where he progressed to head boy.
Then, with Cambridge in view, he instead headed further south to the Royal Military Academy at Sandhurst as war began. Initially commissioned into the Sherwood Foresters, he switched to the Household Cavalry, served in France and Germany and was one of the first soldiers to enter the infamous Bergen-Belsen camp. Kept on in Europe to run a refugee camp on the Russian border, he eventually returned home to resume his education. Beginning with a choral scholarship to St John's Cambridge, he collected Blues for squash and rugby, the award for Cambridge's most outstanding all-round undergraduate and emerged with a double first in modern languages.
Rugby would of course take him to the family's club where he immediately excelled. In 1949, when the army posted London Scottish captain and future brigadier Frank Coutts up north, Logie was called upon to take on the mantle for the rest of the season. He had already been capped in March 1948 playing at centre, in the victorious Calcutta Cup side, but had to wait two seasons for a second and third cap, this time in his favoured position at fly half.
This period in Scotland's rugby journey was not the country's finest. Logie would wait three more seasons to collect his last two caps as the selectors chopped and changed in the middle of the 17-match losing run that stretched across four seasons – which Bill McLaren, just starting on his commentating career, would refer to as Scotland's Long Dark Tunnel. Five caps in five years implies a Scotland career largely unfulfilled. Quick to break and to spot opportunities for others, he was perhaps inconsistent, but then, manifestly, so were the selectors. In their defence, though, Logie had to prioritise work and the arrangement was that he would teach and train the Tonbridge team in the autumn term and then after Christmas be free to play for Scotland; but this meant missing squad sessions which made selection less likely.
Meanwhile, club rugby gave him pure pleasure for many years. Writing two decades later for the club's centenary history, he opined: "The Scottish took risks and threw the ball around. There were some very talented and original players, and on our day we took the pants off the greatest and the best. It was sweet to take over 20 points off the Harlequins at their peak with an all-international back row…It was a joy to play with my brother Rab. Rab and I were both of a generation whose rugby careers suffered from the war. He was 24 at the outbreak of hostilities, and had just been capped for Scotland three times; I was 19. So the war took away most of our best years and perhaps the chance to play for Scotland together."
Bede Bruce-Lockhart (who also played for London Scottish and Scotland Bs before injuries intervened) writes: "Dad's greatest gift as a player was a very swift feint in and swing and accelerate out; he had tremendous acceleration and a lovely dummy too. He spent many hours teaching me those two things, explaining why they were so important to master along with the ability to make the space for and feed the wingers and full back."
Readers with a copy of Frank Morris's book to hand will enjoy Logie's reminiscences of the then annual Easter tours to France, pre-match champagne breakfasts and all, and wish they had been there.
Logie hung up his boots at the end of the 1954-55 season, when he had already been appointed, aged just 33, headmaster of Gresham's School in Norfolk. A visionary head, he retired in 1982 after 28 years in post. Under his leadership, the alma mater of WH Auden and Benjamin Britten began its transition from a traditional boys' public school for boarders with the introduction of girls. He saw the need to modernise the curriculum, building a physics and teaching block as well as biology laboratories. Among his first charges was the future Sir James Dyson; on hearing of Logie's death, Britain's iconic investor and industrialist led the tributes to his old headmaster, who had kept the young Dyson and his brother at the school after their teacher father died of cancer. The school's investment paid dividends – Sir James recently endowed it with a new £19m science block.
Inspired by the polymath in the headmaster's office, Gresham's pupils would go on to success not only in academia but in sport, finance and industry. At the same time, he was a prolific writer, contributing to publications as diverse as Rugby World, Country Life and She; he revealed another passion when he published The Pleasures of Fishing in 1981, and, after retiring, Stuff and Nonsense was made up of reminiscences on both education theory and topics of personal interest as diverse as rugby and wind-surfing. He was an avid bird-watcher, and his poetry and water-colours would feature in books published in his nineties, bringing the total to seven.
He also found it hard to give up his rugby and his club: he was back in January 1957 to join Tommy Macpherson and other old friends in a Golden Oldies match against Rosslyn Park, and then that Easter was back with the 1st XV touring party in south west France, where his fluency in the language made him the ideal tour manager.
Logie Bruce-Lockhart met Josephine Agnew in 1944; it was love at first sight: they married in 1945 and had five children: Jennifer, Rhuraidh, Kirsty, Fiona and Bede. Tragedy struck when Kirsty was killed in a car accident aged just seven. Writing about her death years later, Bruce-Lockhart said it made him realise, "I had not left enough time for the things that really matter, having a happy home, being with the children, sharing outside interests with my wife."
His other children survive him as do grandchildren Nicolas, Alastair, Dacre and Chelsea. Jo died in 2009. After a short bout of pneumonia and a mild stroke, Logie died peacefully just short of his 99th birthday. Only two days beforehand he had enjoyed his daily tipple of rum and ginger beer, singing "I am the very model of a modern Major-General" and conducting Beethoven's Ninth whilst watching the robin and long-tailed tits in his garden.
The private funeral will be followed by a memorial service at Gresham's School at some future point.
Speaking to the Eastern Daily Press for their tribute, Bede described his father as
"One of the great renaissance men of his generation. He was a big believer in excellence and could find something good in every child and every teacher. He had a great sense of humour, was very gentle and kind. People found his intellect imposing, but he was never overbearing and was incredibly comfortable with whoever he was talking to."
The last words should be those of the rugby-playing schoolmaster and writer himself: "Most of us are glad we played then; they may prove to be the last of the days when one played for the joy of the game and not for the avoidance of defeat. Something of that absence of bickering, that gaiety in attack, that camaraderie and individuality is still with the London Scottish today. Long may it survive."
Logie Bruce-Lockhart, 12 October 1921 – 7 September 2020
[with thanks to the Chelsea, Bede, Fiona and the authors of tributes to Logie in The Scotsman and the Eastern Daily Press]
Paul McFarland
On those French tours, Bede Bruce-Lockhart adds:
Dad as you mentioned absolutely loved the London Scottish tours to France both on and off the pitch. He spoke fluent French (German) and his love of France extended after his retirement from teaching to him buying a small shepherd's hut (literally), on the top of a large hill in the Var in the South of France with the most incredible views. I remember re his French tours that the London Scottish team were met by the entire town and their opponents team on the Friday evening before the match on the Saturday; the London Scottish team were taken out by the opposing team on the most almighty bender & party and staggered back very much the worse for wear at about 5:00am.
Feeling dreadful as they got up gingerly to go to the stadium for the match they were comforted by the thought that their French counterparts would be feeling similarly dreadful – only to find as they lined up for the anthems that it was an entirely different team of people they were facing. It was the French second team posing as the first team who had gone out with the London Scottish team the night before! I asked Dad who won the game and he said London Scottish still won and played brilliantly especially in the first half – everything they tried (& they tried everything) came off … real 'Champagne' (literally) Rugby. He loved his time at London Scottish.
and his old friend Jean, Lady Macpherson of Biallid writes:
He was a great rugby friend of my late husband [Sir Tommy Macpherson]. I remember the day, the month, the year, the moment we met – never to be forgotten. It was on the second Friday in October 1953. Tommy and I returned to London from our honeymoon the last week of which had been spent at the SHAPE headquarters, with Viscount Montgomery, our host in Paris.
The flat we were to live in was incomplete and a friend kindly lent to us an attic room. It had a bathroom on the half landing and at the top of the stairs a table, cooker and sink. On the Saturday I became a Rugby Widow and off departed my beloved to say in passing he would be back after the London Scottish Dinner at about 11 pm. It was pleasant to have a little time to relax after so much travel, but anxiety set in when at the expected hour of return 11 pm nothing happened. Stress intensified until at 1 am I heard the front door open and the slow thud on the staircase. I realized he had not returned unaccompanied!! Panic set in, was it to be 3 in the bed? I should have had more faith, Tommy with Logie arrived exhausted at the top of the stairs. Logie reached for my hand, shook it and then placed it on the table, and gently slid underneath it!! Neither he nor Tommy showed much life for at least 12 hours!!
Thereafter we met at his school or his Norfolk home, or rugby tours for many years to follow. Thank you for such happy memories.