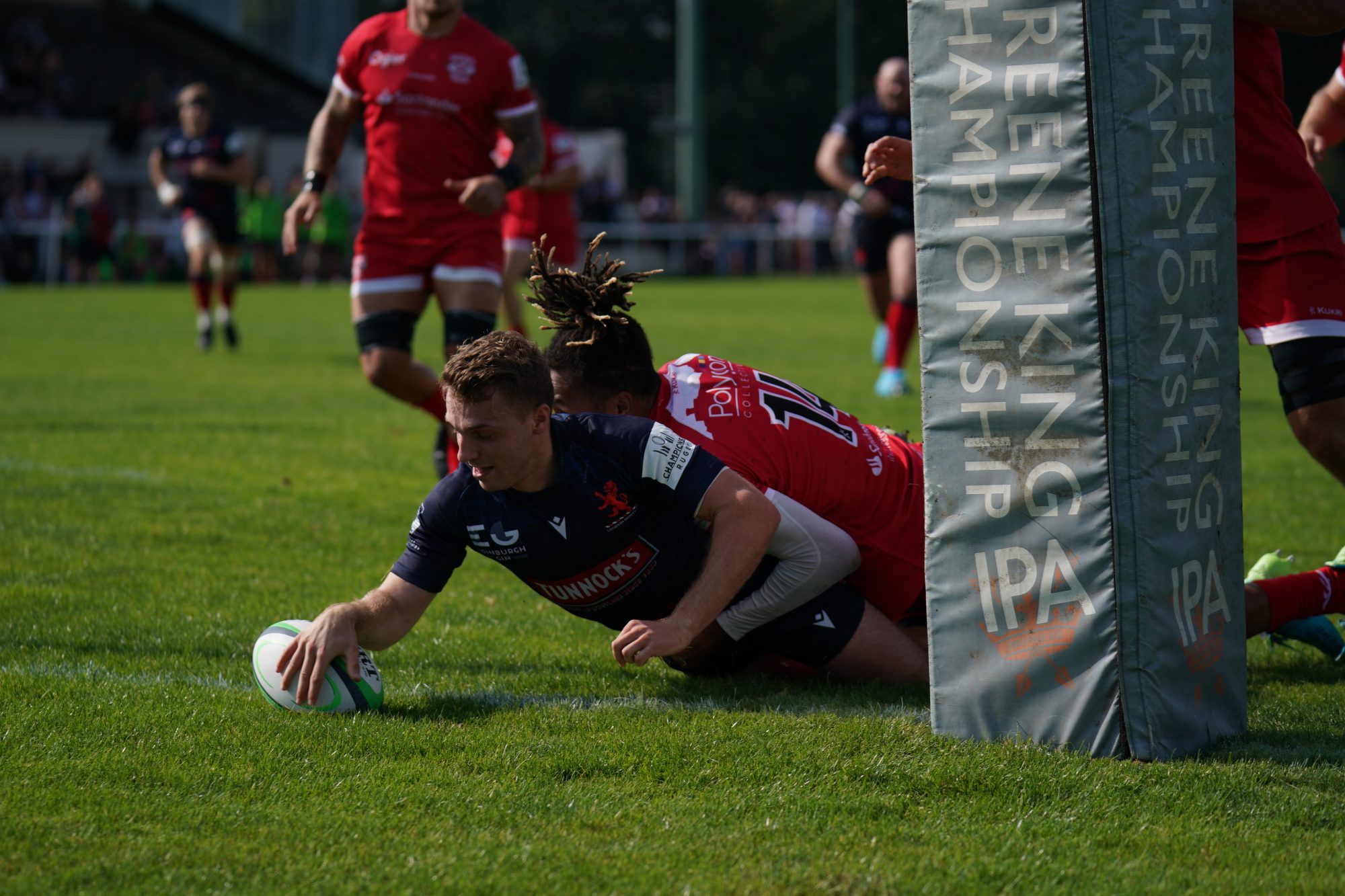 By Tom Sansom
London Scottish faced a difficult test in their return to the Championship, with the full-time score against the Jersey Reds being a 7-47 loss at the RAG. Despite the heavy defeat, the scoreline didn't reflect the tight nature of the encounter.
Initially, Scottish came out of the gates on fire, and were over to score with just two minutes on the clock. Laurence May's pass put Hayden Hyde through the defensive line, and Hyde then linked up a neatly executed two-on-one with Dan Nutton. The scrum half lost his footing slightly, but was able to make his way over the line, and scored under the posts. May calmly converted for a 7-0 lead.
Jersey responded with a penalty shortly after, and the score-line was 7-3 after six minutes by full-back Scott Van Breda. The South African then followed that up with another three points from the tee, making it 7-6 after quarter of an hour's play.
It was expected that Jersey demonstrated the strength of their forward pack, and took the lead with a try after 27 minutes. A rolling maul from five metres out saw the Channel Islanders drive over the line to score. A hat-trick of accurate kicks from Van Breda extended the away lead to 7-13.
Dan Nutton received a yellow card just five minutes before the break, as the Exiles dropped to 14 men. His disruption at the ruck was deemed illegal by the referee and earned him 10 minutes in the bin.
Jersey then extended their lead with the final play of the half. Reds Number 8 Guy Thompson kept the ball at the back of a scrum, as the Jersey pack pushed their way across the try-line. Thompson then grounded the ball to make the score 7-18. Van Breda missed his conversion, and the two sides departed for the break.
In the second half, despite showing other positive glimpses, Jersey found the strength in the encounter and pressed it home. Their rolling maul was an absolute weapon throughout and on 52 minutes, they drew in all the Scottish forwards producing a large overlap out wide as Van Breda easily crossed.
Then Thompson completed his hat trick (again off the back of a rolling maul) on 58 minutes, before another try came through their forward five minutes later.
Two further scores in the final ten minutes from Zak Farrance and Dan Barnes put the gloss on the Jersey score, but in fact didn't reflect how well the exiles had played on their competitive return.
Although a tough result, there were positives from the encounter and the more games we play, the better we'll become against other sides at this level.
Next week we travel to Doncaster before coming back to the Athletic Ground in a fortnight to face Ampthill. To buy tickets for the game against the Mob one, click here.