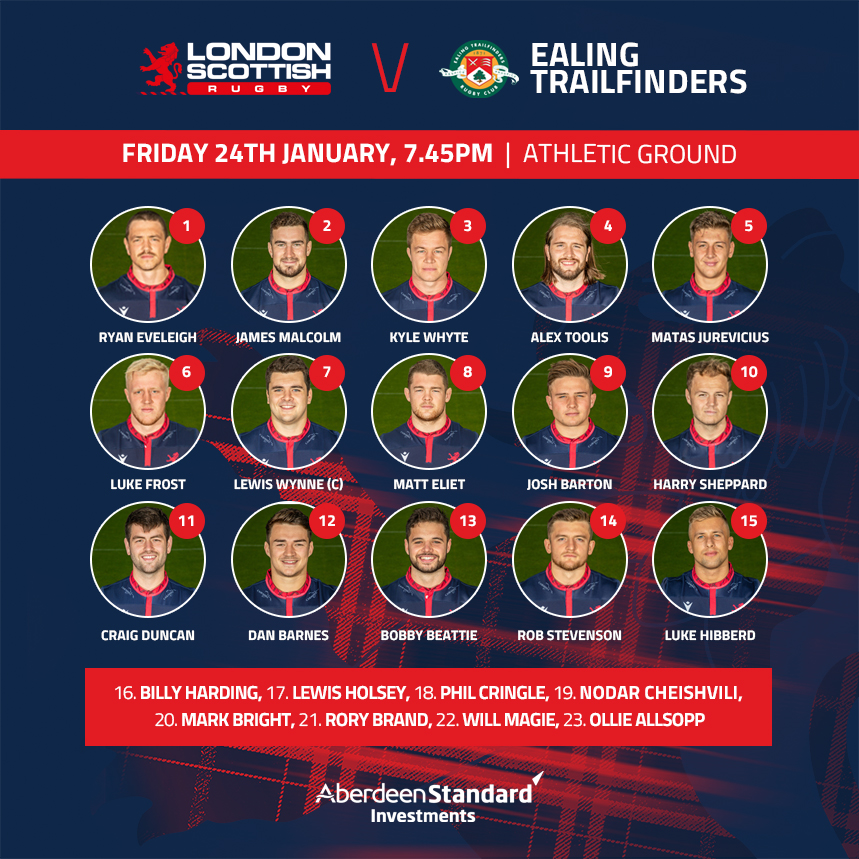 Head coach Graham Steadman has made two changes to the starting line-up for tomorrow's fixture under the lights against local rivals Ealing Trailfinders, kick off 7:45pm.
Ryan Eveleigh comes in for an injured Jordan Brodley at loose-head prop. The only other change comes in the backs. Craig Duncan makes his first start for Scottish this season on the left wing, replacing Jonas Mikalcius who also suffered an injury last time out.
Billy Harding, Phil Cringle, Mark Bright, Will Magie and Ollie Allsopp, plus Nodar Cheishvili, who returns having spent two-days this week with the Georgian international side ahead of the Tier 2 Six Nations kicking off, will all look to make an impact off the bench. Joining them are Lewis Holsey (Worcester Warriors) and Rory Brand (London Irish) who come in on loan.
On his side's opponents this week, Steadman said: "We're coming up against a team who are in very good form having posted 70 plus points against Ampthill last time out. They're going to be in a confident mood and approaching this game with a great deal of freedom, so defence has certainly been a focus for us this week.
"In balance with our defensive attack, we need to be mindful that we can score points too. Having scored thirty points on the road away to Coventry is no mean feat, and we know we can achieve this against most teams. This Friday we go into the game with the underdog tag against a top side. However, we're very much looking forward to the match and I'm sure the boys will put in a top performance and do themselves proud."
This season the Exiles have had to get used to playing a high number of matches on a Friday. "I'm a big fan of Friday night fixtures under the lights because we attract a totally different audience. Our Friday night fixtures have received mixed reviews by some supporters, but I think whatever day the game is played on it's about getting the support behind the team and then building off the back of it.
"Having looked at the forecast it's all set to be a very chilly evening, I would say to the supporters get well wrapped up and let's hope that the boys can warm you up with a very good performance," commented Steadman.
STARTING XV
15. Luke Hibberd
14. Rob Stevenson
13. Bobby Beattie
12. Dan Barnes
11. Craig Duncan
10. Harry Sheppard
9. Josh Barton
1 Ryan Eveliegh
2. James Malcolm
3. Kyle Whyte
4. Alex Toolis
5. Matas Jurevicus
6. Luke Frost
7. Lewis Wynne ©
8. Matt Eliet
REPLACEMENTS: 16. Billy Harding, 17. Lewis Holsey, 18. Phil Cringle, 19. Nodar Cheishvili, 20. Mark Bright, 21. Rory Brand, 22. Will Magie, 23. Ollie Allsopp