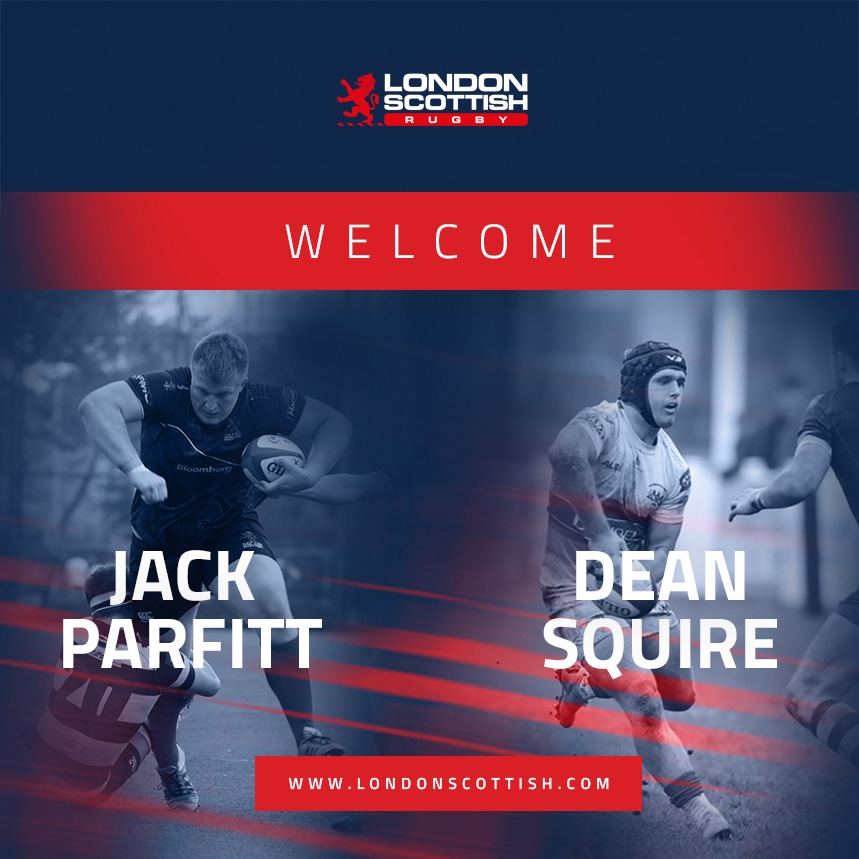 We're delighted to announce the signing of prop Jack Parfitt from Hong Kong Scottish and the loan of newly signed centre Dean Squire to our sister club for the 2020/21 season.
Lets find out all about the two new players:
Jack Parfitt
Australian prop Parfitt has been playing for our sister side for seven years having moved there from Gordon in Sydney, Australia and he has also played for South China Tigers in Rapid Rugby.
Capped 37 times for Hong Kong Scottish, the 28-year-old describes one of his most memorable rugby moments as 'playing in Kenya on a pitch surrounded by a packed out crowd and guards with AK47s guarding the players and fans'.
On joining London Scottish, Parfitt said: "I've always wanted to go and have a stint in Europe and originally France was on my radar, but after talking to boys that have gone and done it I've ended up heading to London Scottish in the Championship.
"In terms of what I aim to learn over there, I guess probably a different style of rugby that I am not used to as I have played all my rugby previously in Hong Kong and Australia, which is a faster game. To try and play a bit of arm wrestle European rugby will be different and something I look forward to."
The forward is also looking forward to the local derbies against rivals Richmond, Ealing Trailfinders and Championship arrivals Sarracens: "It will be immense to test myself against some of the best players in the world, as well as giving it to them, which I'm sure they will get all season long."
On working with Director of Rugby, Matt Williams and Head Coach, Stevie Scott, Parfitt commented: "I have heard very good things about both of them, their CVs are pretty impressive. I look forward to learning from them and the rest of the coaches."
Away from the rugby field you'll be able to find Parfitt out on the water and he's a keen fisherman.
Dean Squire
Having signed with London Scottish from National 1 side Plymouth Albion, centre Dean Squire is set to join Hong Kong Scottish on loan ahead of the new season.
With his visa now approved and flights all booked, the 24-year-old is thoroughly looking forward to the experience: "I'm really looking forward to joining both Hong Kong and London Scottish. It is an incredible opportunity to go and play in Hong Kong, and experience both a new culture and environment.
"Then once returned to London there will be new challenges. It will be a great chance to try and prove myself in the Championship. I'm also looking forward to playing with, and learning from, two new sets of team mates and coaches."
The 6ft 96kg back started off his career at Ivybridge College and was involved in the Exeter Chiefs Academy. He then went on to play at Brixham and Plymouth Albion. He has been with Plymouth for the past four seasons and has reached 101 caps with the side.
Whilst playing for Plymouth Albion, Squire studied Primary Education, where he specialised in PE at Plymouth University. During his last two years at the club he has been working as a primary school PE teacher.
With the season in Hong Kong starting soon after his arrival in the country, the youngster is looking forward to being back out on a rugby field: "After last season being cut short, everyone is ready to get things underway. I'm extremely excited to start training and playing out in Hong Kong before re-joining things in London in February next year.
"It is a brilliant opportunity to play out there! Sarah (General Manager) and Hammo (Head Coach), have been fantastic in helping to get things organised, and making me feel very welcome already. I'm really looking forward to getting stuck in."
On his return to the UK, Squire is looking forward to working with London Scottish Director or Rugby, Matt Williams and Head Coach, Stevie Scott: "I'm really looking forward to working with both Matt and Stevie when I return from Hong Kong.
"They're both ambitious coaches, who I can learn lots from. Having played against Chinnor the past few seasons, I saw first-hand that Matt developed a fantastic side there. It's an exciting time to be joining the club and working with these coaches."
We would like to wish him all the best in Hong Kong and look forward to welcoming him to the team at the start of next year.
Chairman, Malcolm Offord, said: "For many years we have talked about creating a player pathway between the two sister Exile clubs in London and Hong Kong. So I am personally delighted that we have made it happen this season and I wish both players much success and enjoyment on their trans-continental rugby journey."