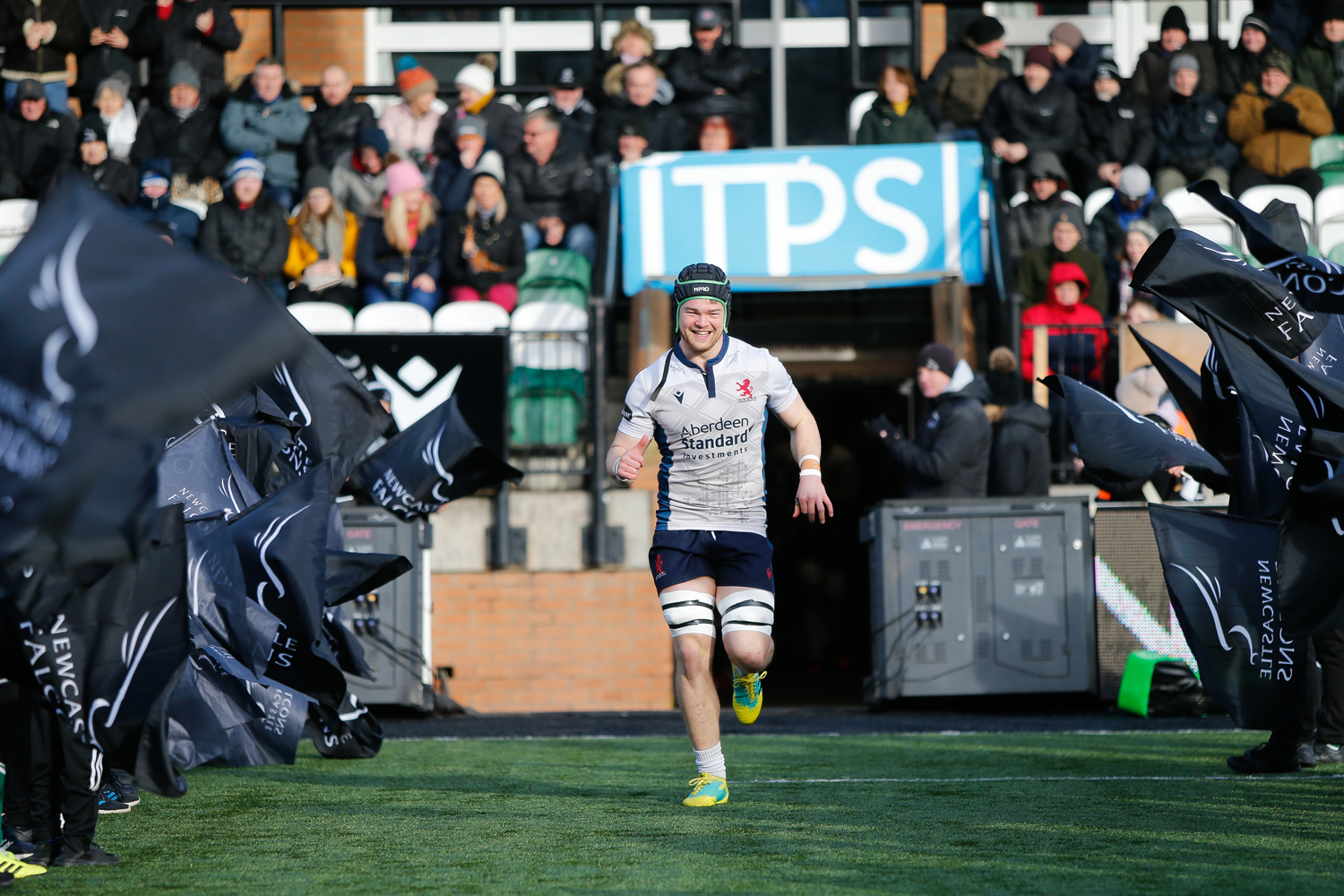 London Scottish suffered defeat in the quarter-finals of the Championship Cup against Newcastle Falcons 23-5, at Kingston Park.
The only point scorer for Scottish was Matt Eliet on his 50th appearance for the club. Harry Sheppard missed the conversion.
Callum Chick and Jamie Blamire both scored, and Adam Radwan ran in a double for the home side. Captain Toby Flood converted all four tries.
It was Newcastle that kicked off proceedings through the boot of Flood. It only took five minutes for the Falcons to score, when space opened up down the left wing and the ball ended in Chick's hands to score in the left corner. Flood converted; Newcastle Falcons 7-0 London Scottish.
Seven minutes later space opened up, this time down the right wing, for Radwin to score. Flood's conversion stretched the score to Newcastle Falcons 14-0 London Scottish.
Breaks from Mark Bright, Luke Hibberd, Bobby Beattie and Dan Barnes, plus good territorial kicks put in by both Will Magie and Sheppard in the first half handed the Scots several good opportunities in the home side's half, but the men from London came away empty handed on each visit.
The Exiles managed to see off one final Falcons' surge, before being handed with a penalty, and Magie booted the ball into touch for half time with the score standing at Newcastle Falcons 14-0 London Scottish.
Sheppard kicked us back underway in the second half the Exiles were immediately awarded a penalty, Newcastle penalised for being offside. Scottish went on to dominate the opening ten minutes of the second half.
Falcons' third of the afternoon came off the back of a rolling maul five metres out, Blamire took the plaudits. Flood's conversation brought the score to Newcastle Falcons 21-0 London Scottish.
With a quarter of the match left to go Gary Graham was shown a yellow for a hight tackle on Josh Barton, Barton had gathered a grubber kick from Rob Stevenson in behind the Falcons' defence 22 metres out. The Scots were unable to capitalise on the five-metre line out advantage.
Four minutes left until the full-time whistle Falcons made a break from their own half and Radwan went over to score his second, Flood converted. Newcastle Falcons 28-0 London Scottish.
The Scots had the last say of the match when Eliet went over to score in the left corner, where Bobby Beattie had been denied already. Sheppard missed the conversion. The score at the full-time whistle Newcastle Falcons 28-5 London Scottish.
Next time out Scottish travel to Headingley Stadium to take on Yorkshire Carnegie in the Greene King IPA Championship on Sunday 1st March, kick off 3pm.
To watch the post-match interview with Bobby Beattie click HERE.
For the match day gallery click HERE.