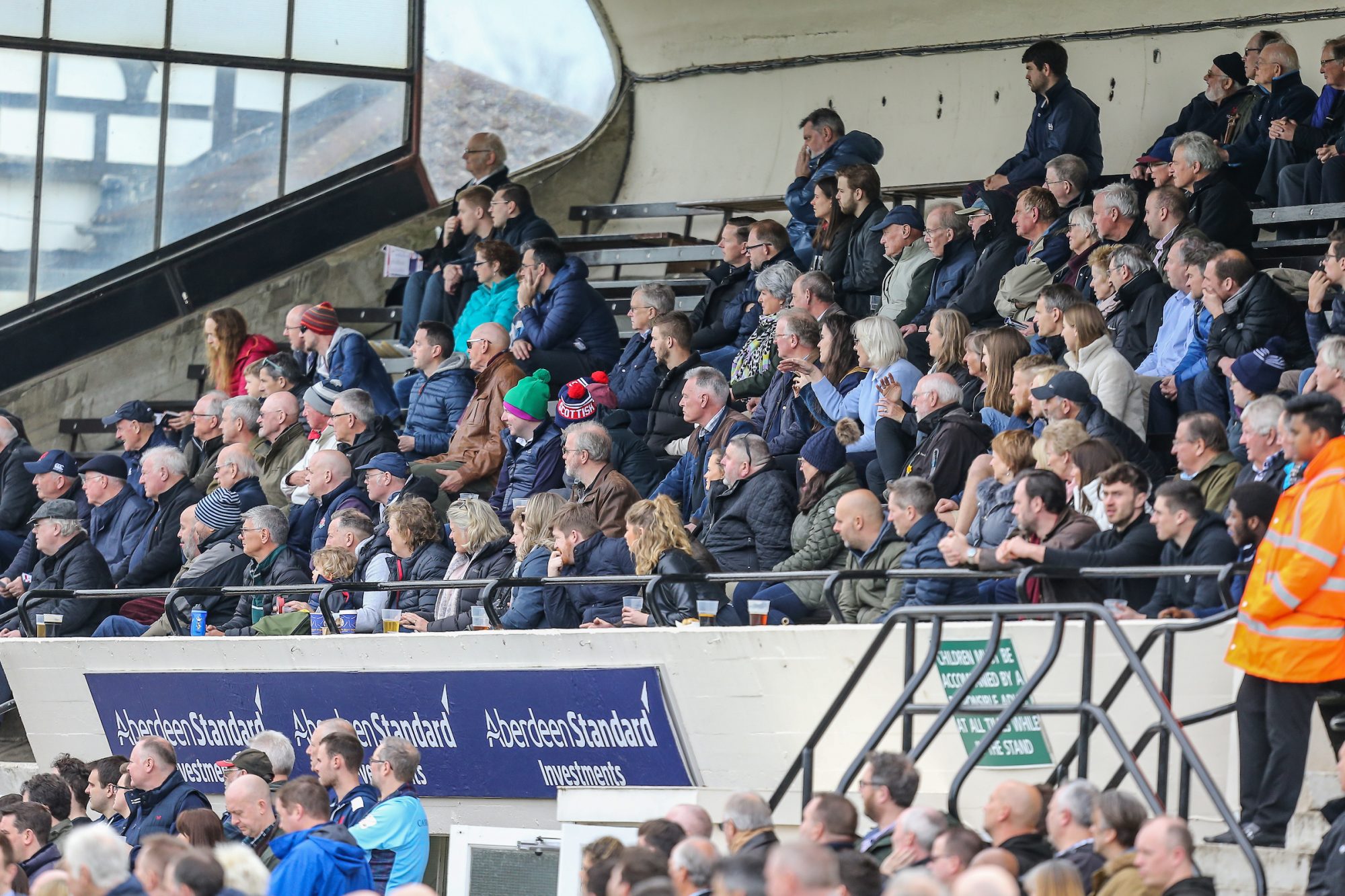 FIRST XV
"It's certainly very strange writing an end-of-season report on the first Saturday in April. Under normal circumstances, we would have been playing Bedford away at Goldington Road on a glorious sunny afternoon in Round 18 of the Greene King IPA Championship.
"For the pro-squad, it's been a very mixed bag this season, having turned in some terrific performances against the top sides in the league and disappointingly, letting ourselves down in other matches when we were in situations where we should have won. But that is the nature of sport, full of its ups and downs.
"The squad had prepared well for the start of the season, having retained two-thirds of last season's players. Pre-season training had gone very well and the players looked forward to their first test, which was a training friendly against Chinnor at the Athletic Ground. everyone had a run-out and the coaches were able to start piecing together their preferred match day squad.
"To round off their preparations for the new season, the squad headed up to Glenalmond College in Perthshire for a training camp, followed by a sterner test against Edinburgh at Murrayfield. Whilst a little one-sided, a lot of positives came out of that encounter.
"And so, the season started with the first three rounds of the cup competition, all at home and all won. A perfect start, followed by the first league match, at home, against the related Premiership side, Newcastle Falcons. Another great performance saw us come away with a losing bonus point. From then on, our season really took on a 'Jekyll & Hyde' appearance, a mix of stirring performances as well as poor ones.
"Highlights, however, must be the narrow loss away at Coventry in the dying seconds of the game, the victories away in Jersey and Leeds. If we could have bottled those efforts for the entire season, we'd be in the top four. Oh well ………."
Doug Cowie
Team Manager
LONDON SCOTTISH LIONS
"Having received official confirmation from Middlesex on the termination of the Lions' respective leagues, the 2 Lions' teams finished up the season as follows:
London Scottish Lions 1st XV – Finished 5th in Herts Middlesex 1 league
London Scottish Lions 2nd XV – Finished bottom of MMT1, they are therefore relegated to MMT2.
"These are disappointing results – following on from the successes of last season. This is primarily down to player numbers resulting from an extensive number of injuries throughout the team.
"Financing two Lions' teams was particularly challenging this season and with the potential of reduced sponsorship going forward, the Lions' are currently exploring alternative revenue streams. Amongst many other things, this may include an annual 7s tournament and a new Lions' bar."
Ian MacFarlane-Bowman
President
GIRLS
"The season for U13 girls was always going to be one of re-building and the coaches in the age group have done a great job of generating team spirit in the player group and fostering excellent connections with the closest clubs around us with girls sections. Our girls have been to numerous joint training/friendly sessions to boost their competitive experience and have a great foundation to develop from next season.
"U18 girls had a mixed season results wise and arguably didn't fulfil their potential but we've seen great strength and depth across the squad with 19 players scoring in 11 games. There has been good team spirit in the squad and some individuals have stepped forward to take responsibility and demonstrate their leadership credentials.
"The cancellation of Melrose Sevens was also a blow because it would have been our first chance to engage with our alumni and field an invitational women's team. Here's hoping that opportunity comes along again the in future."
Tim Lawn
Chairman
COLTS
"This year has been a great success for the London Scottish Colts, despite the untimely end to the season. Both teams were in second place in their respective divisions when the games came to a stop and we can only guess at where they would have ended if we had been able to play those final league games. However, all the signs are there that these teams are on the up and enjoying their rugby.
"Over the season we played a host of international teams, including teams from Germany, Italy, England and Wales, and we were looking forward to topping the season off by playing in Scotland at the Melrose 7s U18's, though we'll have to wait until next year for that now. For many of our players the Melrose 7s would have been a last chance to run out with their mates and it would have been a fitting send off before they move up to senior rugby. Instead we wish them well and look back on some great performances from them over the years. Congratulations guys and enjoy your rugby in the future.
"For the rest of the squad and this year's U15's who we will welcome into the Colts, we are looking to start back with pre-season training from August. Stay safe, and we'll see you then."
Ian Hannah
Chairman
JUNIORS
"The season finished in an abrupt manner, but it was for the greater good. Looking back at the season, we should be proud of our achievements, our teams did well in league games and friendlies and all age groups become better and stronger every year. Our boys have had the opportunity to be trained by 1st XV players regularly and no other club has pro players so involved, we are a healthy rugby community playing for a world famous rugby club.
"As we all know, rugby is a ruffian's game played by gentlemen, and all our boys are quickly growing into fine gentlemen while still playing hard on the pitch. Our opponents recognise this, and we are proud of it.
"Please stay safe and in good health and in good spirit. But most of all, stay fit."
Pietro Crescini
Chairman
MINIS
"The season opened strong with large numbers of new recruits to the U6 and U7 age groups. This was largely down to the summer recruitment efforts led by John Fletcher and supported by the entire club. The influx in numbers at these critical age groups ensure the long-term sustainability of London Scottish Minis. Assuming the current restrictions are lifted we have a similar series of recruitment events planned this summer with school & community fayres and street stalls in Richmond, Twickenham and Kingston.
"The Minis Festival was once again a huge success, confirming it as the biggest and best run festival most have ever attended. 2,100 children played 339 games of rugby from 150 teams on 38 pitches! We have created something very special and it has the attention of sponsors, RFU and SRU as an important fixture!
"In terms of the rugby played, I can say without exception that every age group has played incredibly well this season and the development observed has been phenomenal. New players have taken to the game well and u9's were desperately waiting for contact to start as they took on this new part of the game this season!"
Iain Whyte – Chairman (resigned)
David Deakin – Chairman (new)
TOUCH
"Unlike the rest of the club, touch rugby at London Scottish continues year round with competitions starting in May. Open to all members, we move from Richmond Athletic Ground to Old Deer Park as the evenings start to get lighter, allowing us to accommodate the greater number of players we see during the summer.
"We had a great start to the competition season, coming second in the Touch Rugby category of the Middlesex 7's competition in May – not bad for a team playing social touch. Over summer 2019 we often saw over 50 members playing touch on a Monday night, promoting fitness and improving ball handling skills for all. We had several successes over the summer period, with two players being selected to play for England in the U18 European Championships in Paris, where both the boy's and girl's teams took gold. We also had three players appearing at the Nationals Championships in August.
"Numbers were good over the cold winter months with members regularly enjoying 90 minutes of play under the floodlights. We started 2020 strongly, with sessions often involving over 25 members playing. Sadly, the end of February saw several sessions cancelled because the ground was closed.
"However, we returned to play in March and had the honour of being the last team to play at the RAG before we went into lockdown and all play stopped. Although the future is uncertain, it seems likely that restrictions to social gathering will be relaxed sometime over the summer months and touch rugby will be the first to take to the field once again.
"We invite all members, including mums and dads, to come down and work off the frustrations of our weeks/months of isolation. If you would like to know more about Touch Rugby at LSFC please contact Tim Hardman at tim.hardman@niche.org.uk."
Tim Hardman
Chairman
COMMUNITY
"Prior to it being cut short, the 'new look' community programme enjoyed a successful season and with a number of new and exciting initiatives to look forward to next season, community rugby is moving from strength to strength.
"The community is constantly changing, and we need to reflect and adapt accordingly. In support some of our future plans include: The London Scottish 7's programme, multi-sport camps, new tournaments for local schools, colleges and universities and a number of other community events.
"During the February half-term, we saw great numbers from our amateurs and community joining us here at the Athletic Ground for our first ever multi-sport camp. In addition to rugby the camp allowed participants the chance to experience a wide variety of sports such as football, cricket, dodgeball, cross country – all served up with a big dose of fun. We remain hopeful that we can still run a summer camp and look forward to seeing you all there.
"Our schools programme continues to deliver a broad range of activation across South West London including the local boroughs of Richmond, Kingston, Ealing and Hounslow and we are pleased to be continuing our partnership with Sport Impact.
"The aim of the programme is to engage with local schools and further education establishments to support local community initiatives across four key areas: education, participation, health and inclusion.
"Please do keep an eye on the website for all information and updates regarding community rugby and camps.
"Thank you for all your support and energy this season and I look forward to seeing you all for a full season next year."
Ross Peacock
One Club Rugby Director