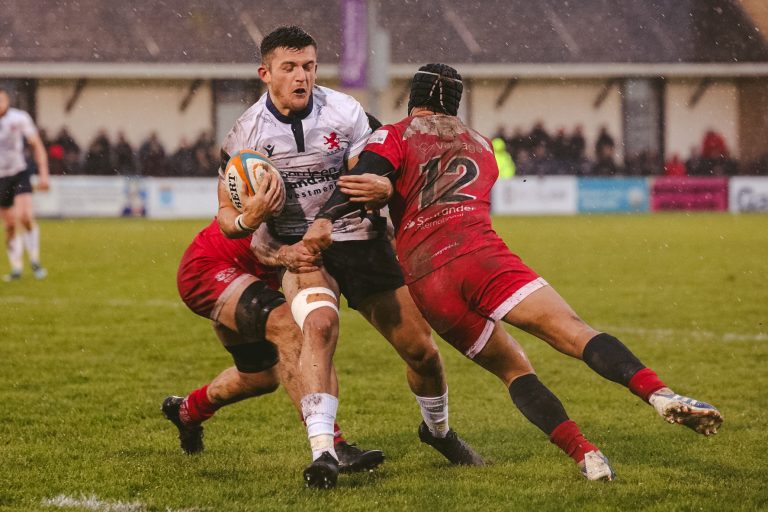 London Scottish come out on top against Jersey Reds 10-13 in a hard-fought encounter at Stade Santander.
A converted try from Mark Bright in the second half and two Will Magie penalties handed the Scots the victory,
Jersey's points came from an Antonio Harris try, which was converted by Brendan Cope who also slotted a penalty.
The win sees the Scots move up to sixth in the Greene King IPA Championship table heading into the Christmas break.
Having kicked off proceedings Jersey were then penalised four minutes in for pulling a Scottish shirt back just within their own half. Magie's kick brought the Scots to 22 metres out from their opponent's try line. The Exiles set up the maul off the back of the line out and Jersey were penalised for a side entry.
The Scots went to the corner again and set up another rolling maul. Sgcrum-half Josh Barton moved the ball out wide and they picked up another penalty, Jersey not rolling away a ruck. This time Magie pointed to the posts; Jersey 0-3 London Scottish.
Jersey went over to score seven minutes later, the Scots giving away a penalty for a side entry at a ruck on their own 10 metre line. Fly-half Cope brought the home side to five metres out. They went through the phases camped on the Scots try line before Harris went over to score in the far-right hand corner. Cope landed the conversion; Jersey 7-3 London Scottish.
With eight minutes to go until half time, Cope landed a penalty in the Scots 22. The weather conditions weren't ideal for scrummaging and the decisions at scrum time kept going Jersey's way. Jersey 10-3 London Scottish.
Magie slotted a penalty not long before the half time whistle, when Jersey were penalised for having hands in the ruck just within their own half. Despite the ball swirling around in a gusty wind. The score at half time Jersey 10-6 London Scottish.
The atrocious weather conditions subsided during the half time break before returning with more ferocity in the second half. With lashing rain and powerful winds, the second half turned into a mud bath.
It became a scrappy affair, with the weather conditions not helping play. The Scots strong defence denied Jersey try scoring opportunities on several occasions.
The winning try for Scottish came in the 68th minute when replacement Bright gathered the ball off the base of a ruck in Jersey's 22 and ran in right next to the posts. Magie added the conversion. The score at the final whistle was Jersey Reds 10-13 London Scottish.
The Scots' next game is at home at the Athletic Ground against Bedford Blues on Friday 10th January 2020.