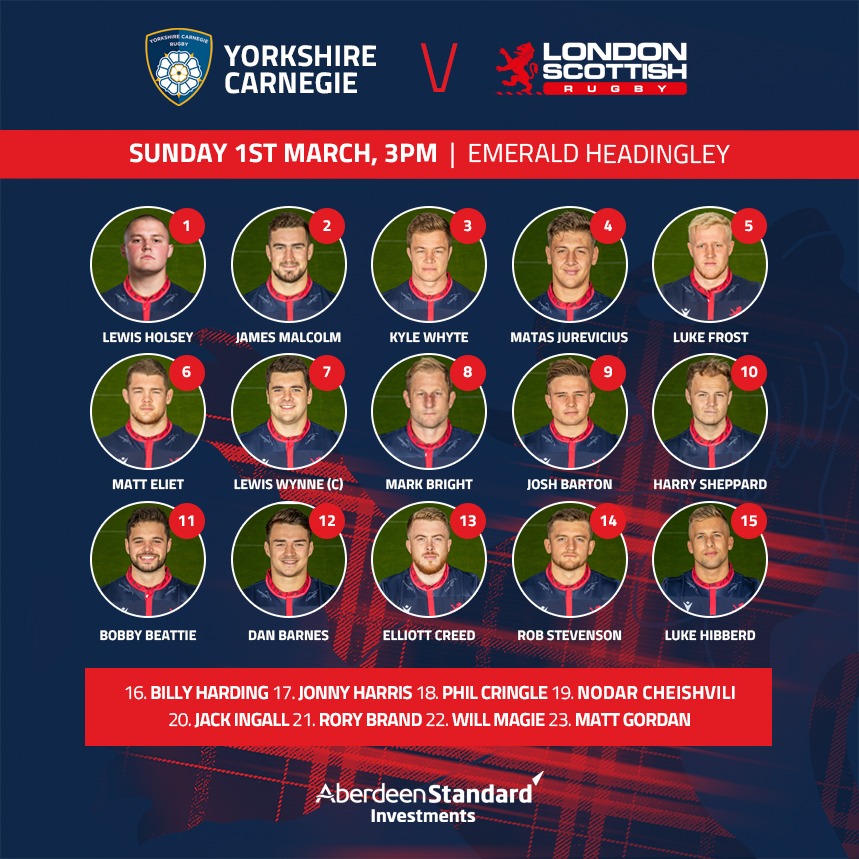 London Scottish are all set to take on Yorkshire Carnegie on Sunday at Headingley, kick-off 3pm, in Round 14 of the Greene King IPA Championship.
Six changes have been made to the starting line-up that was beaten by Newcastle Falcons last weekend in the quarter-finals of the Championship Cup at Kingston Park.
James Malcolm comes in at hooker to take over from Billy Harding, who drops to the bench. Kyle Whyte starts at tight-head prop ahead of Phil Cringle, Matas Jurevicius comes back into the starting XV for an injured Alex Toolis in the second row and captain Lewis Wynne returns at open-side flanker, Jack Ingall drops to the bench.
The remaining changes come in the backs. Harry Sheppard moves back into his preferred starting position at fly-half, Will Magie drops to the bench, Elliott Creed returns from injury to start at outside centre, Dan Barnes moves back into the 12 jersey having started at 13 last week.
Also returning from injury are Jonny Harris and Matt Gordon, who will look to make an impact off the bench. Joining them are Nodar Cheishvili, who returns from international duty with Georgia, and Rory Brand.
On how training has been going this week, forwards' coach Stevie Scott said: "Training has been going well. Obviously, the boys knew from last weekend that they had had a positive performance, despite the loss, so that always makes a difference to a training week. There were loads of good opportunities in that game. We just need to keep doing the things that we do well and there's a good vibe around the club."
The Scots have had a long list of injury concerns, but this week the return of Elliott Creed, Jonny Harris and Matt Gordon has helped. "The return of Jonny to the front row will add some depth. We would like to thank Alan Solomons from Worcester for loaning Lewis Holsey out to us.
It's helped us through a difficult period, having lost Jonny and Jordan Brodley at similar times. Lewis has developed week after week with us and it's good to see that the Championship can provide that platform for players to come in to and improve, so that's a positive.
Elliott returns from a foot injury, so that adds a different dimension to the back line as well. It's good to have boys come back in at this time of the season," commented Scott.
It's 11th versus 12th this weekend and a win has been evading the Exiles so far this year. "Every game in the Championship is a big game for us. They're a proud side, we're away from home, they've improved massively since we last played them. There're no illusions here to how big a match this is and how tough a match it will be," said Scott.
STARTING XV
15. Luke Hibberd
14. Rob Stevenson
13. Elliott Creed
12. Dan Barnes
11. Bobby Beattie
10. Harry Sheppard
9. Josh Barton
1. Lewis Holsey
2. James Malcolm
3. Kyle Whyte
4. Matas Jurevicius
5. Luke Frost
6. Matt Eliet
7. Lewis Wynne ©
8. Mark Bright
REPLACEMENTS: 16. Billy Harding, 17. Jonny Harris, 18. Phil Cringle, 19. Nodar Cheishvili, 20. Jack Ingall, 21. Rory Brand, 22. Will Magie, 23. Matt Gordon