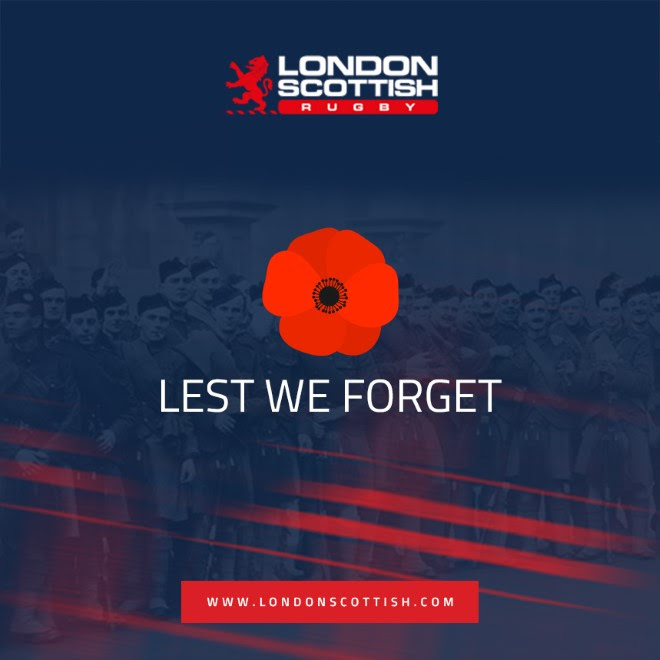 London Scottish was founded in 1878 and we are rightly proud of our International Honours Board which boasts 224 international caps, more than any other club in world rugby. This includes 4 British Lions captains, a club record held equally with Leicester.
However, during this Remembrance weekend, we turn our attention to an even more illustrious list of names; those members and past players whose 155 names are inscribed on our War Memorials at the RAG.
Hard-wired into our London Scottish DNA is respect for, and annual commemoration of, the extraordinary service and sacrifice demonstrated by our past players at war.
On Remembrance Sunday, let us pay tribute to our heroes who made the ultimate sacrifice:
103 men are named on the London Scottish WW1 Memorial;
of the 60 men who played for the four sides in the last match of the 1913-14 season, 46 were killed;
of the 1st XV, only one man was neither killed nor wounded;
of the 87 Home International players killed in WW1, 31 were Scotland caps and 20 of those played for London Scottish;
the first of these 87 was Lt Ronnie Simson of LSFC in the Battle of the Aisne, September 1914; three days later and three miles away LSFC's Lt James Huggan became the third;
55 Oxbridge Blues were killed in WW1; 20 of these were London Scots;
of the 103 London Scots who fell, ten were Old Fettesians;
of the last 12 Scotland Captains before WW1, ten were London Scots and three of them were killed;
club secretary Lt Col Duggie Lyall Grant survived two years in a POW camp;
one international player was killed in the Boer War, Douglas Monypenny, another London Scot;
Our WW2 Memorial records 52 proud names;
in the century from 1896 until the game went professional in 1995, Scotland capped 42 serving members of the armed forces; 34 of these were London Scots the last one being Rob Wainwright.
Today, London Scottish runs a vibrant multi-section, community-based rugby club comprising minis, juniors, girls, touch, Lions and 1st XV where traditional values of mutual respect and pride in the jersey remain the dominant culture.
And we thank our fallen for the freedom we enjoy today.
Club President Paul Burnell and Hon. Sec. Paul McFarland will represent LSFC alongside our friends at Richmond FC at the joint memorial service at the RAG on Remembrance Sunday.