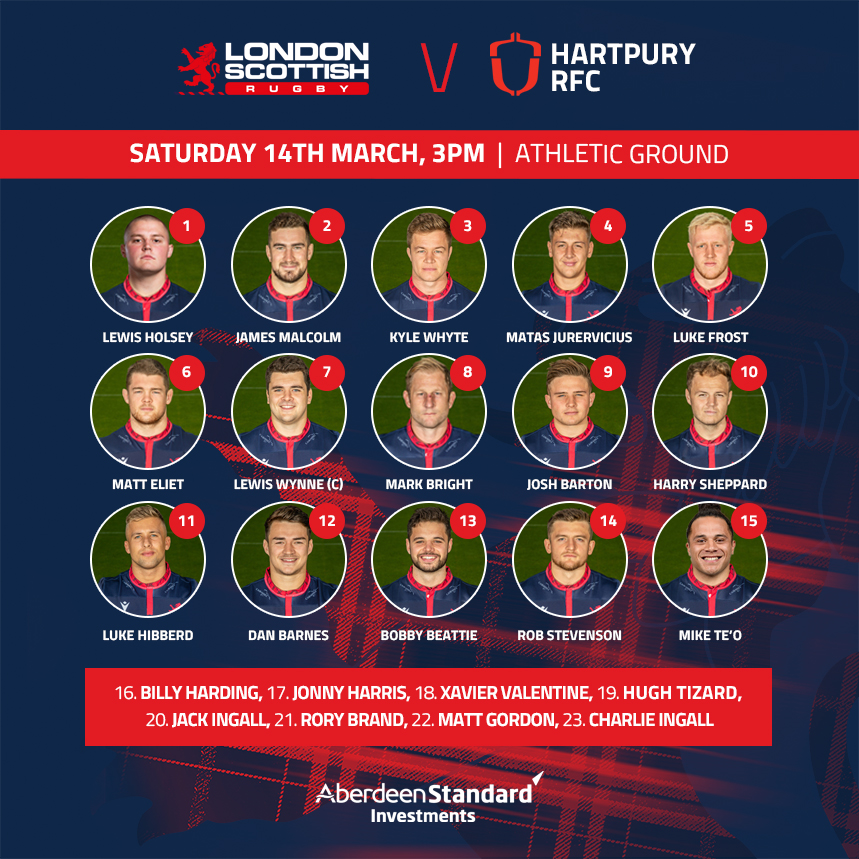 London Scottish have made one change to the side that beat Yorkshire Carnegie last time out ahead of tomorrow's clash at home against Hartpury, kick off 3pm.
The only change made by interim head coach Stevie Scott comes in the form of newly signed Mike Te'o, who will take over full back duties from Luke Hibberd.
Hibberd moves out to the left wing and Bobby Beattie takes over outside centre duties from Elliott Creed, who drops out of the match day squad.
Hugh Tizard returns from England U20s duties, Charlie Ingall and Matt Gordon both return from injury. Xavier Valentine also comes on to the bench alongside Billy Harding, Jonny Harris, Jack Ingall and Rory Brand.
On selection this week Scott said: "Mike Te'o comes in, it's always difficult bringing a new player straight in but I am confident in my decision. It allows Luke Hibberd to move back out to the wing. I take my hat off to Luke, he joined us from the league below and hadn't played full back before. He's more a natural winger, but the performances he's put in for the team at full back this season have been excellent. It was an easy fit to bring Mike in at 15.
"In the forwards, it was good that Jonny Harris got some minutes under his belt last time out and it's great to have him back from injury, he'll get some more game time from the bench. We thank Quins for having Hugh Tizard back on the bench with us this weekend.
"On a whole we're in a good place having had a tough time during the Christmas period when the squad was at a real stretch. We've now got a strong 23 heading into the match against Hartpury."
Having been beaten by Hartpury in November last year, the Scots replaced their opponents this weekend in 10th spot in the League table.
"It's all set to be a very entertaining fixture. Every game in the Championship is tough whether it's home or away. Hartpury have got some good players and we've looked back at our last match against them; it will be very motivational for us to get the win against them this weekend.
"Regardless of anything else we underperformed away to them, when we were labelled to be the favourites for that fixture. It didn't happen, so I think this match has always been at the back of the boy's minds. We want to put a few things right at home. I think it's important that we respect the score board as well and that we build pressure throughout the game.
"The boys will be looking forward to a Saturday fixture and a 3pm kick off, the first at home since October 2019. We need to start well and then just feel our way through the game off the back of that," said Scott.
On how training has been going ahead of the game Scott said: "It makes a difference that we're starting to see a bit of sunshine. We're very lucky to be based here at the Lensbury with the pitches and the facilities. That allows us to train every day on a good surfaces and the boys are in a good mood.
"Off the back of a good win and then a break they're looking forward to a home game. Those a pretty key factors, so all is positive.
STARTING XV
15. Mike Te'o
14. Rob Stevenson
13. Bobby Beattie
12. Dan Barnes
11. Luke Hibberd
10. Harry Sheppard
9. Josh Barton
1. Lewis Holsey
2. James Malcolm
3. Kyle Whyte
4. Matas Jurevicius
5. Luke Frost
6. Matt Eliet
7. Lewis Wynne ©
8. Mark Bright
REPLACEMENTS: 16. Billy Harding, 17. Jonny Harris, 18. Xavier Valentine, 19. Hugh Tizard, 20. Jack Ingall, 21. Rory Brand, 22. Matt Gordon, 23. Charlie Ingall