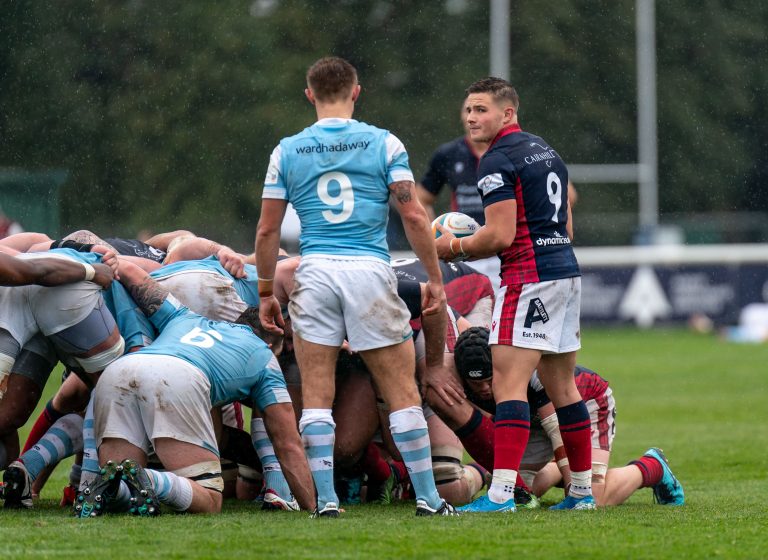 London Scottish suffer first home defeat at the RAG, 13-17 to Newcastle Falcons in their Greene King IPA Championship encounter.
Australian centre Matt Gordon came off the bench to score the only try for the Exiles, Dan Barnes kicking the conversion and fly-half Harry Sheppard kicking two penalties.
Try scorers for the Falcons were Adam Radwan and George Wacokecoke with conversions by fly-half Toby Flood who also kicked a penalty.
It was the visitors who got the first points on the board three minutes in when Radwan came off his right wing to go over to score left of the uprights, Falcons playing left to right in the first half. Flood's conversion went over. London Scottish 0-7 Newcastle Falcons.
The rain started to come down, then minutes later Sheppard kicked the Exiles first points after the Falcons were deemed offside. The penalty brought the score to 3-7.
Both teams felt the effects of the greasy ball with several handling errors being made in the first half.
Falcons scored their second try 22 minutes in when inside centre Wacokecoke broke through the Scots' defence to score right of the posts. Flood's conversion stretched the score to London Scottish 3-14 Newcastle Falcons.
The Scots played the remaining ten minutes of the first half between their 10 and 22-metre lines. The half time score London Scottish 3-14 Newcastle Falcons.
Sheppard got proceedings back underway and the Exiles landed a penalty soon after, which the fly-half kicked over. London Scottish 6-14 Newcastle Falcons.
Similar to the first half, the majority of play took part in the home side's half. However, the Exiles' defence held strong to deny the Falcons another try.
Through a break from Matas Jurevicius, the home side found themselves on the halfway line, where referee Jack Makepeace penalised Falcons for being offside. Barnes' kick brought the Exiles all the way up into their opponents 22. Off the back of the line out, Gordon went over to score his first try in a Scottish shirt after punching a hole through the Falcons' defence and going over to score in the right corner. Barnes' conversion brought the Scots to within one point of the Falcons. London Scottish 13-14 Newcastle Falcons.
In the dying moments of the game, the Exiles gave away a penalty right in front of the sticks after not rolling away at the breakdown. Flood's kick brought the score at the final whistle to London Scottish 13-17 Newcastle Falcons.
The Scots next game is away to Nottingham next Friday at the Lady Bay.