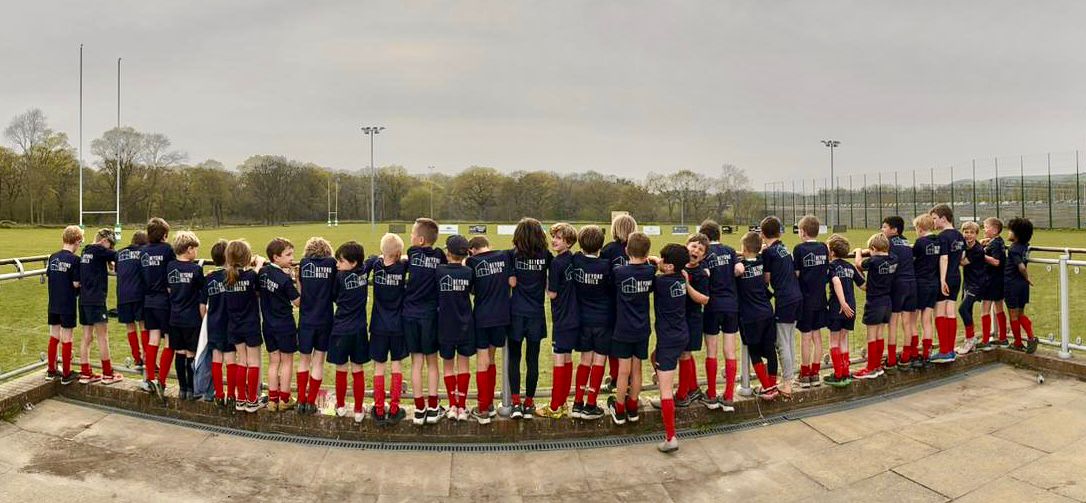 A fitting and cracking end to our 2022-23 season saw London Scottish u12s venture west to Somerset, the cradle and heartland of English rugby.
Our Roman gladiators upheld the fine traditions of our club by playing expansive, fast-paced rugby, with our strike runners making continuous incisive line breaks that were repeatedly converted by impressive out-of-tackle offloads and quick recycles.
The lads showed exemplary sportsmanship and humility throughout and returned home victorious with 2 very impressive, tightly-contested and richly-deserved victories.
The first match was against Keynsham – arranged by our U12 coach, Darren Bartlett, to commemorate the life of Charlie Harris, a talented young man, and Keynsham RFC regular, whose life was tragically lost far too soon. A day of glorious sunshine saw LS U12s run in 9 tries to Keynsham's 6. The highlight of the day being the presentation to the club and parents of Charlie a splendid memorial cup, that we have resolved to play for annually, thereby cementing the relationship between our clubs and ensuring Charlie's remembrance rightfully continues. Ad bonum rugby.
Following the match, the annual awards ceremony was held, with the following taking home the accolades:
– Saltire award – Freddie – for an incredible debut season; continuous tenacity in attack and defence
– Most Improved player – Callum – a breakout year, for leading the line and continuous adroit decision making
– Player of the Year – Henry – whose versatility is only trumped by his reliability. A rock in the squad since u6
– Players' Player – Devan – a standout choice, rightly recognised by his peers for his match-winning performance against Esher and the highest season-long tackle count.
From Keynsham we headed for Bath, dressed fittingly as Roman Gladiators and Gauls. A splendid team curry and court session was held, with fines dished out for a wide variety of offences, ranging from excessive Sunday morning adult exuberance (Kash) to persistent claims of coach/ management bias (to the detriment of their children – Conor, Callum, Eddie and Henry).
For our final act it was off to Chippenham. Despite trailing 5-2, our lads never wavered in their belief and came from behind to win 7-6. There were some fantastic individual runs (Devraj, Taysir, Will, Eddie) and some heroic defensive contributions (across the entirety of the squad).
This tour was a huge test – 2 away fixtures against Bath and Bristol feeder clubs – sizeable, well-drilled opposition, with strong & fast runners aplenty. We are very proud of the boys who can now enjoy some off-season rest and sporting diversification. All can reflect on a terrific season, with many highlights. With some excellent additions joining for next season, the London Scottish juniors can look forward to the u13 with rightful eager anticipation.