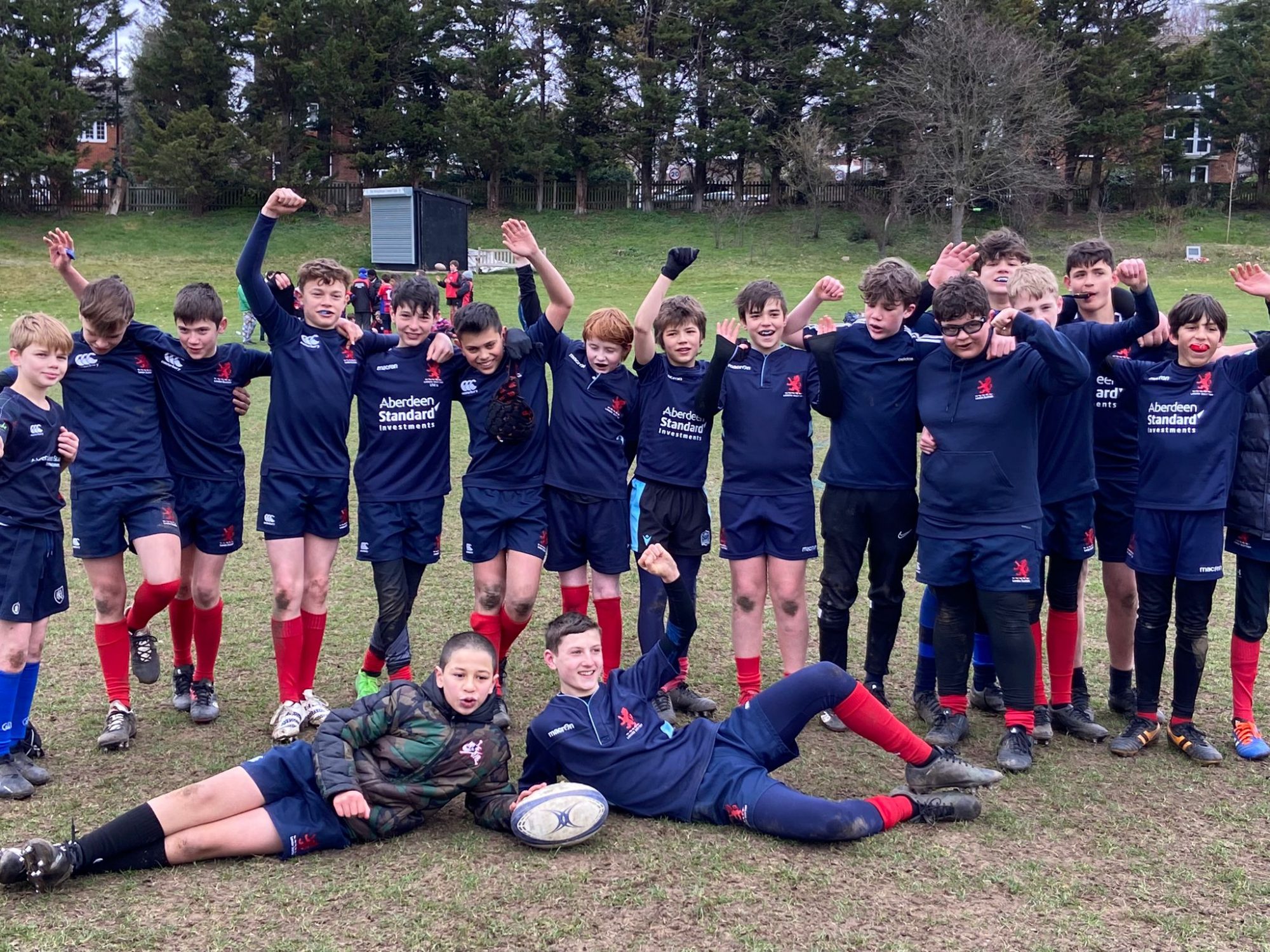 On the day that Scotland lost an action-packed contest away to France, which put an end to their Grand Slam dreams, London Scottish (LS) U13's had an excellent away win against Old Whitgiftian's (OW) RFC. Going into the game both teams were unbeaten, with OW's having the meanest defence in the league and LS having the best attack. Something had to give!
Prior to kick-off there was a sense of excitement and anticipation across the entire player, coaching and parent group. LS had a record turnout of 18 players which meant we were able to field a very strong starting team but also were able to call upon great impact and energy from the bench.
LS started really well with lots of energy and strong running & tackling from Emre, Patrick & Liam in the early exchanges. Great work from Rudy on an OW scrum saw him get the better of his opposite number to secure a LS turnover.
It only took a few minutes into the game to see the first try for Scottish. Following some good build up play, a quick pass from Gregor put Rafa into space in the midfield. Rafa, who still had lots to do, used a combination of strong running and good fend offs that saw him go all the way and score an important early try to settle the away teams nerves.
A few minutes later LS Scottish doubled their lead in what was a great team try with the whole backline involved. Rudy did an excellent job to dig the ball out of the base of the scrum, and that was under pressure, and pass the ball into midfield. The team let the ball do the work, passing it through the hands from Gregor to Elliot to Jodh to Raph to Cameron, and finally out to Rupert on the wing who turned on the gas to burn several defenders to touch down in the corner.
The period following LS 2nd try saw OW enjoy longer periods of possession and territory in the LS half putting pressure on our defence which stood up strongly. However, this pressure culminated in a few penalty advantages for the home side and following one advantage OW passed the ball from left to the right to create a clear overlap and for a run in for what looked a certain try. Rupert though had other ideas and put in an excellent tackle to force the attacker to agonisingly touch the ball down to the right of the try line and out of bounds.
Rupert's heroics were greeted by massive cheers from his teammates and you could sense that this could be a momentum shift in the game. Indeed, it was as it galvanised LS who defended very strongly to stop OW on the next series of attacks.
OW were now getting frustrated after they were unable to break LS resilient defence, and Elliot saw his chance and with perfect timing picked off an intercept and ran the length of the pitch side stepping their full back on his way to touch down. The score line could have easily been 1-2 but was 0-3 to Scottish!
There was still time for one final act of the first half and once again Scottish turned defence into attack. Having turned the ball over Rafa finished the half as he started with a good run through some tired OW defenders to score a crucial try giving LS a 0-4 lead at half time.
The 2nd halve was a real dog fight compared to the first half with LS playing up hill and against the wind. OW really made a great game of it (in a game that was played in great spirit) and their scrum which gained dominance in the 2nd half gave them a great attacking platform. Clearly, there was tired bodies on both sides, after a pulsating first half, with OW staging a good come back scoring 2 tries in the 2nd half.
However, it was the LS bench that made all the difference with Seb, Henry, Max, Daniel & Ismail all coming on to make all the difference. LS fifth and final try was a very classy score with Patrick throwing a basketball style pass to Rupert who beat several players and passed out to the right to Seb. Seb, who put in massive shift, ran a great supporting line and powered past a few defenders to score the decisive try.
LS then saw the game out and we move on to the next challenge with another tricky away fixture against Guildfordian next Sunday. C'mon Scottish!
Forwards: Daniel, Emre, Raf, Gaston, Henry, Liam, James, Max, Patrick (c)
Backs: Rudy, Gregor, Cameron, Elliot, Seb, Raph, Rupert, Jodh, Ismail
Join in the fun with London Scottish juniors, if you are interested in playing for the Club, click here.