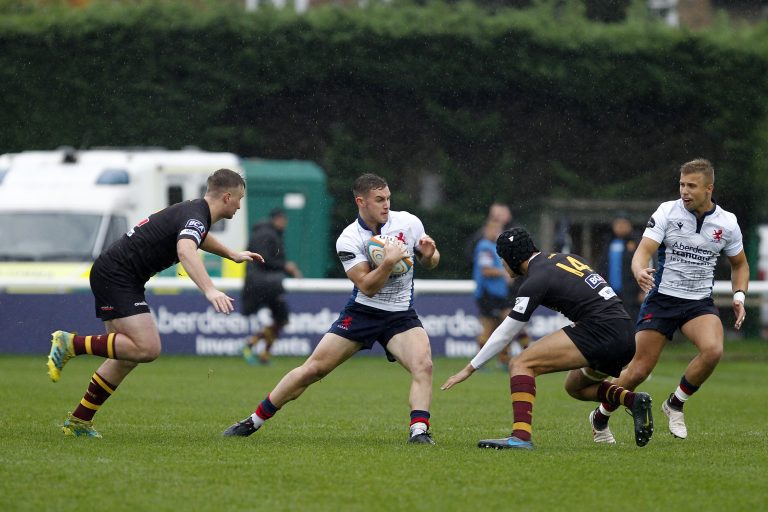 London Scottish draw at home against Ampthill 6-6 in the third round of the Greene King IPA Championship.
Under some grim autumn weather conditions at the Athletic Ground, the points from both sides came through the boots of the kickers; fly-half's Harry Sheppard and Dan Barnes slotting one a piece for the Scots and Louis Grimoldby in charge of kicking duties for Ampthill.
The Exiles put the visitors under pressure straight away after the kick off, with two quick penalties at the maul handing them a line out five metres out with only six minutes on the clock. The line out was lost by the Scots, something that would become a feature of the afternoon.
Minutes later Ampthill scored the first points of the afternoon, after the Scots were penalised for not rolling away at the ruck. The penalty kick from Grimoldby went over. London Scottish 0-3 Ampthill.
The defensive efforts from each side in their own half was outstanding all match. Both teams had equal opportunities to score before half time. The Scots inaccuracy in the line outs when in Ampthill's half cost them dearly.
Both sides shared penalties in the minutes leading up to half time, the penalties being given for ill-discipline at the ruck. Grimoldby kicked his second and then Sheppard landed the Exiles first points. The score at half time London Scottish 3-6 Ampthill.
Head coach Graham Steadman began to ring the changes minutes into the second half, Dan Barnes coming on for Harry Sheppard at fly half and Bobby Beattie replacing Elliott Creed at inside centre.
With the rain coming down heavily, the greasy ball started to affect both teams. The knock-on count started to increase and the game went aerial.
Ampthill missed a penalty with ten minutes of play left. The Scots received a late penalty and Barnes' kick brought everything level. The final score at the RAG London Scottish 6-6 Ampthill, with both sides coming away with two points.