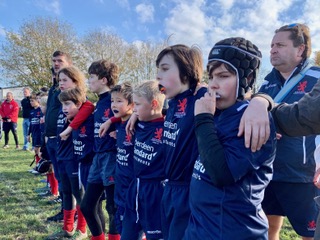 Having had their own ground taken over by a minis tournament, Teddington turned up at the RAG on Sunday mobhanded with around 35 U12 players and six coaches.
With our more limited resources we had a playing group of just over 50 boys for a mixture of drills, skills and matches.
We started by mixing all of the boys together and kicking off with a few rounds of bulldog to get the hearts pumping and the blood racing. We followed up with some intense rucking drills focussing on body position and leg drive and then moved into some coached matches of ten versus ten in mixed teams with the aim on improving defensive and attacking alignment.
The mixed drills and games worked well and, combined with some welcome nice weather, had the boys ready for proper matches.
We kicked off playing what was effectively a Teddington "A" team who were very well drilled and quick to react to rucks and loose balls and who ran hard and straight, passing nicely into space. This, combined with some quick runners and some big ball carriers made for a tough match and while Scottish stuck at it physically, showing good commitment, a lack of organisation in defence and also in attack allowed the opposition scoring opportunities which they took and denied us many. Scottish were too slow at the rucks which resulted in a number of turnovers which were punished and in attack we did not align well enough nor pass effectively, with some of our stronger runners learning a valuable lesson that you cannot rely on beating players consistently yourself when playing better, organised sides who make their tackles. In all, a hard match where the boys showed commendable commitment but poor execution of their skills and a match we ultimately lost 6-nil.
After an honest debrief when the boys admitted where things had gone wrong, we set about playing a slightly weaker Teddington team and saw an immediate improvement in our approach. First-up tackles were made and were made low compared to our first game where players were trying too hard to rip the ball rather than concentrating on putting the ball carrier down and there was more urgency at the rucks with the result we were not pushed off our own ball and we won a number of counter rucks. All this good play put our opposition under pressure in their own half leading to three quick tries the last of which was particularly pleasing for the coaches as we battered their line and won four of five quick rucks in succession, before scooting over for a great team try. We went into half time 4 tries to one up but Teddington fought back and showed some of the skills the previous side had demonstrated to score a couple of quick tries themselves through some good passing and smart lines of running. The boys showed some good resilience to fight back and score two further tries to put the game out of sight, though we then did let them grab a couple of late scores to make it closer than perhaps it should have been. All up, a great game from both teams showing great skill and commitment and played in a good spirit throughout.
We took a lot away from the morning. Teddington were very organised and their composure and alignment in attack and defence and the way they played with their heads up assessing their options was a good lesson for our lads.
That said, everyone in the Scottish side contributed in both matches with every player bringing something to the games, which is always gratifying for the coaches. Particular mentions go to Campbell Bright who scored a hat trick in the second game and never stopped attacking, Nico Sanderson who ran hard at the opposition dragging defenders with him in both matches and James Russell whom the coaches named player of the day for his non-stop tackling, rucking and ripping – a great effort to celebrate his birthday the day before on 29 February!