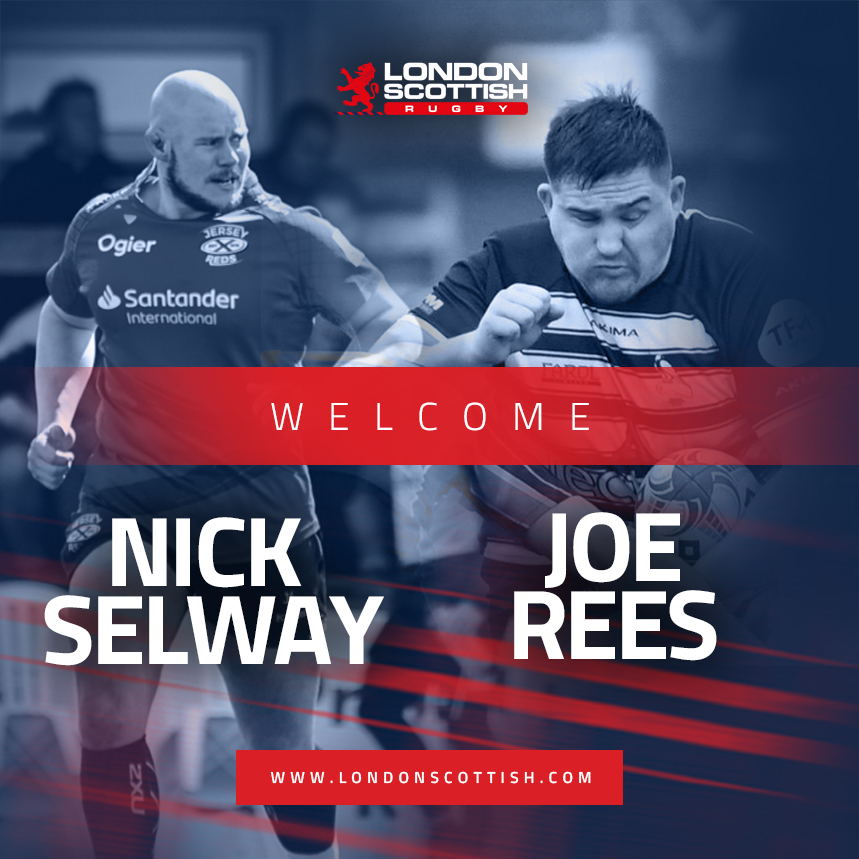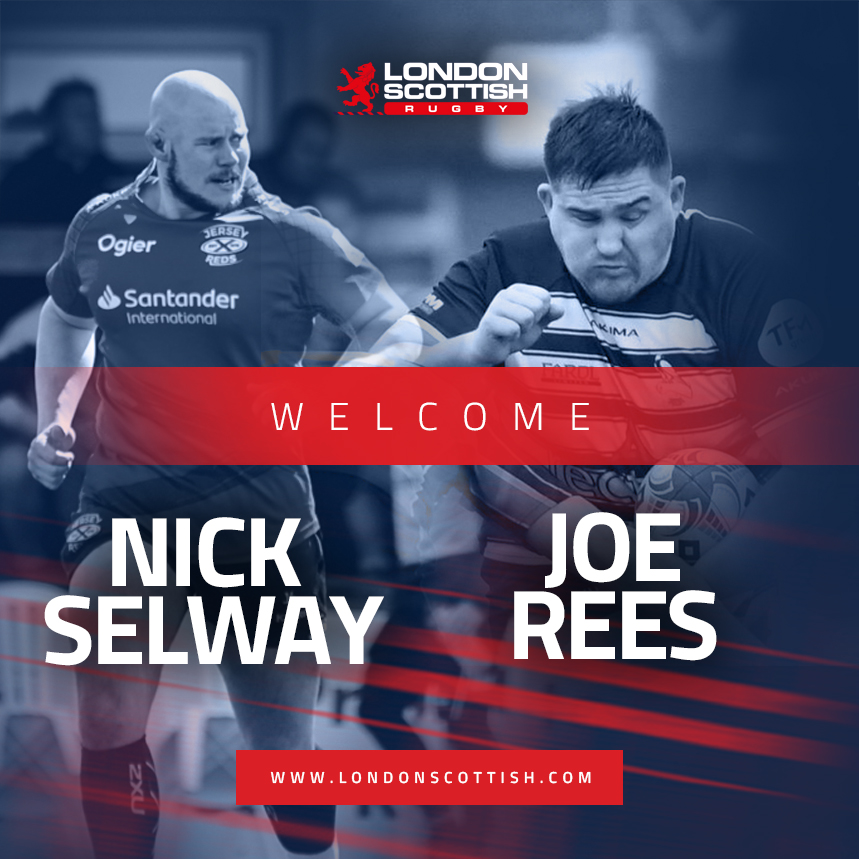 London Scottish is delighted to announce the double front row signing of hooker Nick Selway and tight-head Joe Rees ahead of the 2020/21 season.
The Championship stalwarts join the Scots from National One side Chinnor, where they both played for one season having made the switch from Greene King IPA Championship side Jersey Reds and Merthyr Rugby respectively for the 2019/20 season.
Nick Selway standing at 6ft 2in, and weighing in at 118kg, affectionally known as 'Salad', went over to score 17 times last season for the Oxfordshire based side and ended the season the competition's joint top try scorer.
A former tight-head prop, Selway converted to hooker in 2015. During his time with the Reds he became one of their longest serving players, notching up an impressive 126 appearances over six seasons (2013/14-2018/19).
Having also previously played at Lydney RFC and Cinderford, Selway will add an experienced head to the front row.
Speaking about joining the Exiles, Selway said: "I enjoyed National One, but I've missed playing in the Championship and am really looking forward to playing in the competition again. The matches against Jersey are fixtures that I cannot wait for. Winning against them would be great.
"Jersey meant a lot to me. I still have loads of friends there, but I needed that change after six seasons. If I'd signed there for another season, I would probably have stayed for the rest of my life".
Selway used to be a brick layer and then, when he joined Chinnor, he began working for Red Row Homes as a site foreman.
"I wanted a new challenge and something that would let me play rugby whilst also working. I knew by joining Chinnor that they were good at finding you job opportunities. I spoke to Matt Williams and told him what I wanted to do. He's the one that was able to set up that opportunity with Red Row and that's one of the reasons I followed him to London Scottish," said Selway.
With news that rugby could potentially resume next month, Selway is looking forward to getting onto the pitch: "Everyone just wants to start playing, safety always comes first though. We don't want to push the limits, but I can't wait for the day we are back playing.
"We then will all have something to train for. At the moment we're training, but we don't have a clue when our first game is. Once we have a date, then we all will have a goal to hit. Mentally it would be great to get back, too".
Director of Rugby, Matt Williams, commented: "Salad is one the games strong personalities. Having spent a year with him it's easy to understand why he was such a fan favourite at Jersey. Not only is his set piece superb but he brings an edge to a team that I love! I am confident he will make a big splash for Scottish and show the clan why he is one of the most feared hookers still in the game!"
Joe Rees, the former Wales U20s player spent three seasons, playing over 35 games with PRO14 side Ospreys before joining Worcester Warriors for the 2014/15 season, where he made 24 appearances before making another seven when the side were promoted back into the Premiership the following season.
He then made the move to Rotherham Titans for a season, linking up with former Cardiff Blues' coach Justin Burnell. Rees made the move to Chinnor from Merthyr Rugby where he spent two seasons whilst qualifying to become a mortgage broker. Merthyr were named The Principality Premiership Champions two seasons in a row (2017/18-2018/19).
Standing at 6ft 1inch and weighing a colossal 138kg, Rees has a much-feared reputation as a dominant, destructive set piece technician.
On joining the Scottish set up, Rees said: "I'm looking forward to challenging myself in the Championship again, joining the team and moving to a new training ground; there are exciting times ahead".
Rugby runs in Rees's family with his dad still playing the game whilst he was growing up. At the age of five Rees joined a minis team: "My whole family is a rugby mad. My dad was actually watching Wales v South Africa when my mum went into labour with me, since that day I've spent every weekend at a rugby club".
Looking ahead to fixtures back in the Championship and taking on local rivals Richmond, Ealing and now Saracens, Rees said: "The best victories are the ones against your local rivals. Every single player in the squad really wants to play in those derbies, no matter whose ground you're playing at, the atmosphere is always amazing and carries you through the game.
"Each derby that you play in is massive and the crowds that come along to watch are always big. Those are the kind of matches you put a marker on at the start of the season, and the ones that you want to play well in.
"Saracens are going to be the ones in the league with a target on their backs. All the sides will want to play well against them".
Matt Williams added: "Joe is, without doubt, the best scrummager I have had the pleasure of working with. He missed the first half of last season due to injury but transformed our team with the constant scrum penalties thereafter that allowed us to control field position in most games. People can quite clearly see from my recruitment policy how we are going to try and compete against full-time teams, and the signings of Salad and Joe hugely aid that process. As a part-time team, marginal gains wherever possible are key and I am not hiding the fact we will target set piece!"