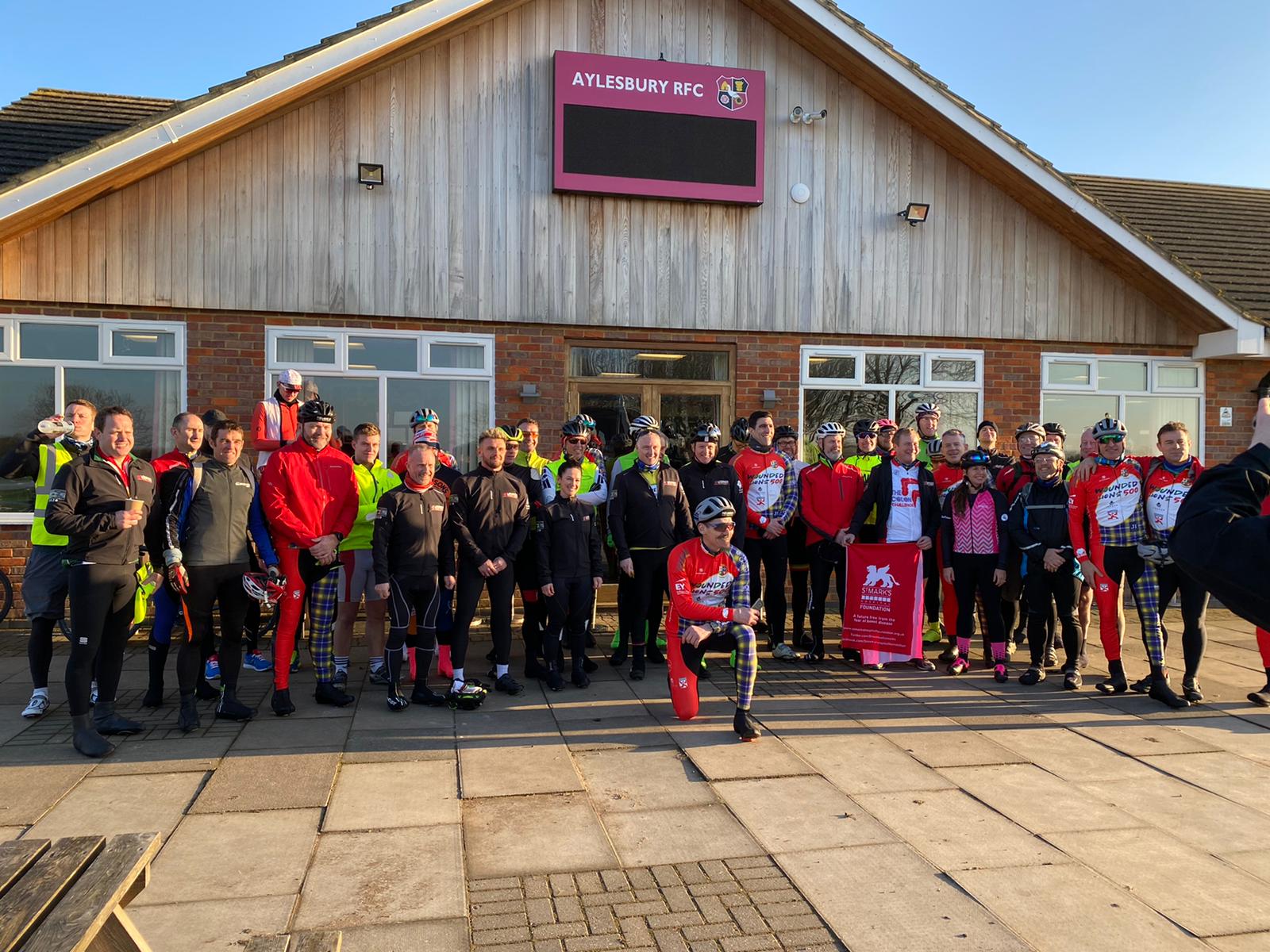 Wounded Lions 500 Special
Wounded Lions Update:
On Thursday 6th February 19, riders from London Scottish joined Rob Wainwright and nine other core riders for two legs of his 500 mile bike ride from Twickenham to Murrayfield, delivering the match ball for this year's Calcutta Cup at BT Murrayfield.
From this event alone, Rob and his team have managed to raise an impressive £143k for My Name'5 Doddie Foundation and Tom Smith's chosen charity 40tude, with donations from the London Scottish JustGiving page contributing £15k. A stellar effort by all involved!
The London Scottish team gathered at the Richmond Athletic Ground at 10.00am for a pre ride briefing by Allan Bertie before setting off to join Rob and his team at Twickenham prior to hitting the road.
The first stage was a 50 mile stint from the home of English Rugby to Aylesbury Rugby Club. A warm welcome at Aylesbury Rugby Club was followed by soup, sandwiches and some much needed cake before getting back in the saddle and hitting the road to Franklin Gardens, Northampton.
A big thank you must go to all involved but especially all those who worked hard behind the scenes to make such a special event possible.
Seamus Joyce for providing the minibus for the drive from Northampton back to Richmond. Not only had Seamus organised for the bus to be borrowed from local school St Richard Reynolds, he (and his dog) had given up his day off to drive from Twickenham to Northampton to be ready to welcome the London Scottish riders into Franklin Gardens. A welcomed relief for all.
Doug Cowie and Graeme Robertson for ensuring the safety of all riders over the distance, driving 100 miles at a top speed of 10mph! A long day at the office for both, leaving the Athletic Ground at 10.00am, returning at 10.00pm and not getting their first pint until 10.30pm.
Stuart Griffin and Nic Johnson for keeping the pace at the front of the pack in the London Scottish branded Land Rover and ensuring all 19 riders stayed safe and made it to Franklin Gardens in one piece.
And last but not least to Iain Whyte for being the driving force behind the efforts and contribution made by London Scottish. A stalwart of the club, Iain has contributed to many areas of London Scottish life over the years, this only playing a small part of the bigger picture. Thanks Whytey!
Here's the day summed up by one of the London Scottish riders, Derek Peacock:
"I'm no Lion but am most definitely wounded, so it was the best possible tonic for me to be invited to join so many positive forces and get a first hand sense of what "one club means". It was made all the more meaningful being able to do the first 100 miles with my son Ross.

It was even more resonant when I met so many giants of rugby, all of whom wanted to put in, not take out. Tom, Rob, Damian, Paul. All legends to me as a spectator. All were authentically welcoming and interested in others. Inspiring to me, a guy who's been in the business trenches on his own for 33 years not really getting the team thing. It was remarkable to me that all these factors conspired to ensure I did not look at my phone once on the day. I was adsorbed and in the moment as a result of the generosity and goodwill of others. That's a first!

My London Scottish Old boys, Dave Cafferty, Russ White, Graham Reaves, Bill Cockburn and Gordon Brown even resemble these "one club" characteristics I referred to earlier by sponsoring a first team player then adding to that by encouraging me along on my trusted steed between Twickenham and Northampton. Thanks Lads.

Rugby has been the making of my son Ross as it appears to have been for everyone I meet in the sport. Zin Zan and Norm Maxwell. Norm told me if it wasn't for Rugby he'd probably be in jail. Later that same evening at the bar with said gentlemen, we were joined by Woodcock and Alcock. When I was introduced and as quick as a flash, Norm replied there's too many cocks around here!!! One club definitely needs a sense of humour. Everyone I met last week, however wounded had just that. A sense of humour and a bucket load of humility.

I'm privileged to have played a small part with this Wounded Lions group. I'm delighted to have met so many genuine people who have given me a glimpse of what the rugby family and one club looks like. 

It was all brought home to me as I walked up to Festival Square to welcome Rob and the rest of the guys into Edinburgh on Saturday. This guy walked towards me and it was entirely instinctive when we began a 'man hug'. Amazing to be recognised after only one encounter on the bikes. Nick (the Greek) Grecian another top bloke.

Last but not least "one club" is also having an immaculate and organised tool box. While attempting to fix a pair of cleats at Twickenham Stadium I had a chance encounter with Whytey's tool box!!! What a great Metaphor for the road ahead. Thanks for the lesson Whytey and for the banter a long the way, moral was kept high.

Thank you all for the experience and I very much look forward to doing more with London Scottish in the future."
Colts Update:
London Scottish Colts, sponsored by Friends of Scottish Rugby, are happy to welcome Modena Rugby 1965 for their annual tour this weekend.
Last season the Scots came off second best so they are out for revenge this time. As the Scots will be fielding pretty much the same squad – they were playing up a year last time – there is a good chance that all the work put in by the players and the coaching team – Michael Mullins, Neil MacFarlane and first team tight head Phil Cringle – will bring the result on the field.
Recent weeks have been frustrating for the players as successive league matches have been called off so they are raring to go and it should be a good match. If you fancy coming down and having a look at the rugby stars of the future we'll see you on Sunday, 12 o'c lock kick off at the Athletic Ground.
Ian Hannah – Convener of Colts Rugby
Community Update:
With only 2 days of term remaining, have you made plans for next week's half term yet?
There are still places available on the forthcoming February Half Term Multi-Sport Camp. Book NOW to avoid missing out!
The camp will run here at the Athletic Ground from Monday 17th February – Thursday 20th February. Open to those aged 6-16, all abilities welcome.
To book call the office on 0203 397 9551 or follow this link to book online.