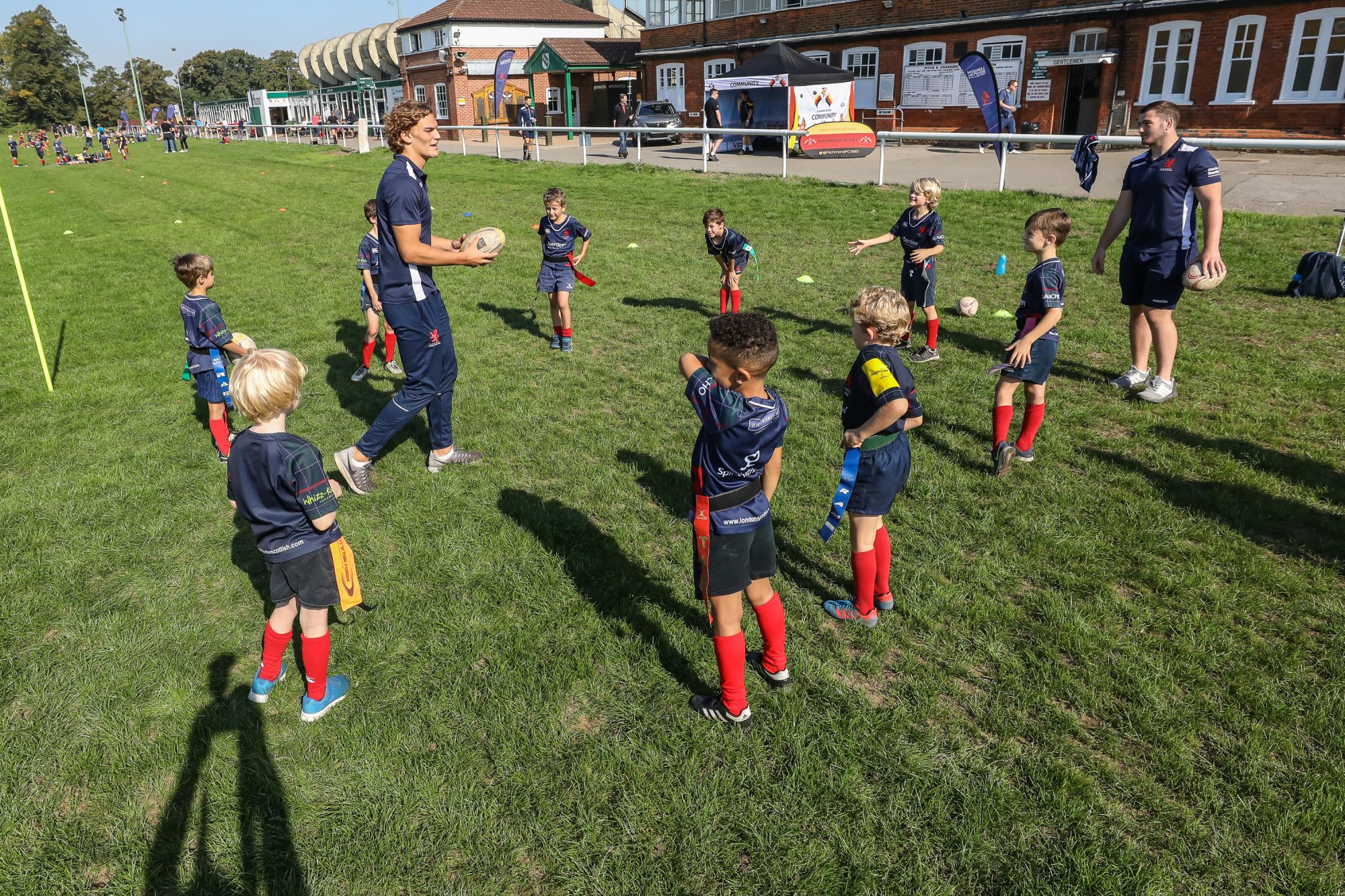 Minis' Update:
Sunday 1st March 2020
Well, the wind nearly blew us away, but we had a fantastic festival over at our friends in Teddington.
We fielded three under-7s teams, and each one made us proud. There was great commitment and tons of enthusiasm from every player.
The coaches noticed lovely teamwork both in our attacks and in defence. In one game, we turned over a Wasps ball on our own try line and ran it all the way across the pitch to score. Kids were shouting for their team mates to get behind them. And we were running tries deep into the corners, with some impressive handling skills on display.
A huge thanks to all the parents and carers who joined us at Busy Park. We know the wind was icy, but it made a huge difference to have you there. And hopefully those delicious pork sausage baps and hot chocolates warmed you up.
Let's hope the rain continues to stay away. We'll see you all this week. Please remember training is at Old Deer park (near Pools on the Park) and not at our grounds.
Alex Eliseev – U7's Parent
Sunday 8th March 2020
From a windy Bushy Park to a sunny Old Deer Park…we're edging closer to home.
While Richmond hosted a festival at RAG this Sunday, we made the best of the bigger pitch nearby. We ran some great drills and the coaches were impressed by the tagging and sidestepping on display. And with some extra space, we played a fun game of six-a-side to finish off the morning.
Our players of the week were: Adam, Theo and Declan. And the trophy went to Bella. Well done everyone!

We're back on home soil this weekend and we look forward to seeing you there.
If you haven't yet, please double-check that we have your email address and that you have the TeamSnap app on your phone. These help us plan and keep you posted about venues or last-minute changes.
Jon Cornelius – U7's Coach
Girls' Update:
Sunday 1st March 2020
Our U13 girls joined Barnes, Chiswick and London Welsh as part of the St David's Day festival at our local neighbours.
The day saw close to 30 girls learning from each other, sharing experiences and continuing to grow the interest in the girls game across the local area.
A closely fought game saw "Scotwick" edge the hosts in a match played in brilliant sunshine that matched the smiles on the girls faces…..well done to all involved!
Darren Bartlett – Girls U13 Coach
Juniors' Update:
Sunday 1st March 2020
A bright, blustery day saw Farnham RC visit us. This was a game we weren't looking forward to with several of our regular try scorers away on their Duke of Edinburgh award weekend but the rest of the team stepped up and came together for what turned out to be a good win, 36-5.
Farnham started strongly and scored through hard work and attritional tackling which eventually led to our breakdown but from then on we got organised and Max and Mark put in two tries. In the second half our consistency and tackling got the better of Farnham with tries coming from Ben, Josh and Arthur. The wind was not on Max's side however he still converted 3 of the six tries. This was a triumph of team work, spirit and a reminder that in a rugby team all players are important to get the result.
Sadly Marco had an awkward fall just five minutes in and had to go off. Later we learned he'd broken his collar bone so we wish him a speedy recovery.
David Guild – U14's Coach
Lions' Update:
Sunday 8th March 2020
The weather seemed to be the only real winner over the last couple of weeks with training sessions being limited in quantity. That being said with a tough run in towards the end of he season it was imperative to get some game time for the team.
A friendly was arranged on Saturday against London Irish, with a big squad it allowed the coaches to try different combinations which could prove crucial in the final few weeks. With a big pack, Irish tried to be dominant from the start keeping the ball within the scrum a couple of pushover try's was their reward but was equally matched by the clever lines and off-loads to keep the score fairly even for the first half.
The second half The Lions backs showed their skill and fitness and ran riot with at full time the score ending 62-17.
Another by week next week will allow for another friendly to be arranged (at this point TBC) with league duties resuming on the 14th with the firsts playing Hendon and the seconds facing Belsize Park. Support is always welcome and KO times will be announced next week.
Philip Stokes – Lions Media Liaison
Community Update:
On the back of a successful February Half Term Camp here at the Athletic Ground, we are pleased to announce the dates of our Easter Multi-Sports Camp.
The camp will run over 4 days during the first week of the Easter holidays from Monday 6th April – Thursday 9th April 2020 inclusive running from 8.00am – 4.00pm daily.
Attendees can look forward to a multi-sport approach with sports such as rugby, football, cricket, netball, dodgeball, cross country and many more and of course all served up with a large dose of fun!
We are also glad to announce the return of the infamous Pizza Party at the Easter camp – you don't want to miss out!
Should you be interested in booking your place then please call the office on 0203 397 9551 or booking online via our website by clicking this link https://londonscottish.cloudvenue.co.uk/londonscottisheastercamp. Book early to avoid disappointment.
For any camp related queries please contact Ross Peacock at ross.peacock@londonscottish.com.