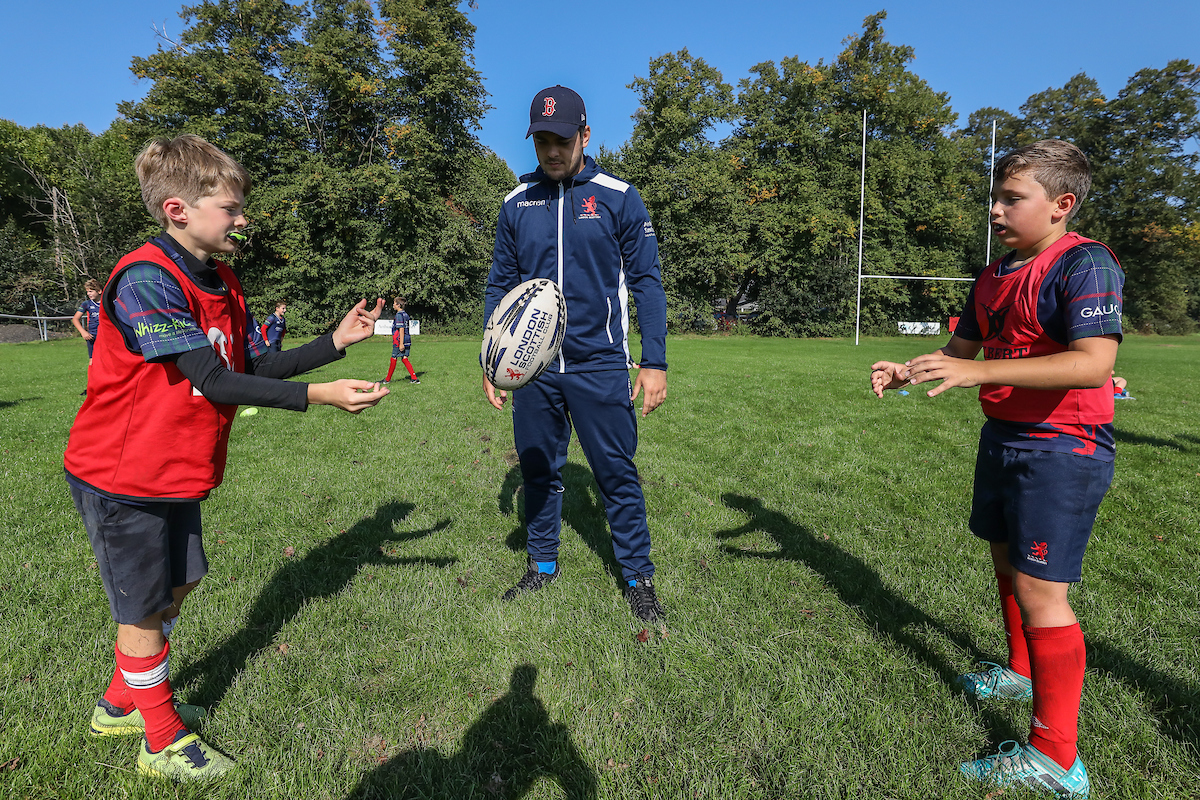 Mini's Update:
29 kids. Six teams. Five coaches. It was a full house at London Scottish this weekend, as we hosted the Grasshoppers for our latest training session.
The under-7 squads mixed well and if there's ever been a bigger round of bulldogs, we certainly can't remember it. By the time only a few kids were left, the line would have made Johnny Cash proud.
We worked hard on our drills and having the extra coaching hands really helped us add variety into the training. At the end, the clubs came together to form combined five-a-side teams and played some excellent touch rugby. There was great teamwork from everyone.
Three of our weekly medals went to the Grasshoppers, but Jack and Hugh were our players of the week. Congrats to both! We had a minor injury (a sprain) and are hoping to see Beau back on the field soon.
To end things off, we did our bit to promote healthy living by offering our teams and guests some free chips at the clubhouse. Potatoes are part of the "five a day" right?
See you next time and if you haven't booked your spot at the Minis Burns lunch, don't forget!
​
John Fletcher – U7's Head Coach
Juniors' Update:
Our first game of 2020 was against unfamiliar opponents, and as is usual, we parents ran our eye over their warm-up from the touchline to search for clues as to what sort of opposition they would provide. Although we had faced larger teams, these boys looked pretty imposing and ran a very busy and engaged pre-match routine. The good impression was compounded when we learned from their parents that they had trained between Christmas and New Year!
Our boys apparently weren't quite ready to take on this laser-focused team, and we conceded within the first minute and several times thereafter in the first half. They had a number of very quick, strong runners and demonstrated some great offloading. There was not much respite for us in possession, as in defence they were very quick off the line and practically never missed a tackle. Boys that we normally rely on to break the line were being dumped unceremoniously on the turf.
What was encouraging from a Scottish perspective though was that our lads didn't give up and found a way to stifle them as the game went on – much of the second half was scoreless. A high point was Aleks' try – a classic training ground move, he darted over on the blind side of a rolling maul.
Rory Dusoir – U14's Team Manager
Girls' Rugby Update:
The U18's Girls cup run this season came to a crashing halt in their London & South East Region Quarter Final this Sunday with an emphatic, 0-85 defeat at home at that hands of a rampant Sutton & Epsom.
Credit to all 21 players involved in the match for their resilience in playing with commitment to the final whistle and for being honest in reflection after the game. The group are young and relatively new to each other so the focus now is on development for the future and we will play a number of friendlies through to the end of the season, including against two touring sides. We will be hosting Exeter Saracens on Sunday 1st March and Mississauga Blues from Canada on Friday night 20th March.
Next weekend the U13's Girls are looking forward to going to Ruislip for the latest Middlesex Pitch Up & Play event for some competitive rugby against other Middlesex girls sides.
Tim Lawn – Head of Girl's Rugby
Touch Update:
Despite the wet and windy evenings we have seen encouraging numbers come down to the touch sessions on Monday night. We have had around 30 players enjoying multiple games on Pitch 2.We can still fit a few more mums and dads (or players) wanting to burn off the Christmas fat.
Come down to the Athletic Ground and join us for a run around this Monday night from 7.00-8.30pm on Pitch 2
Tim Hardman – Convener of Touch Rugby
Community Update:
Whether you are an aspiring professional sports person, or someone who simply loves sport then the London Scottish Multi-Sport Camp is for you!
To book call the office on 0203 397 9551 or to book online click HERE!
Ross Peacock – One Club Rugby Director