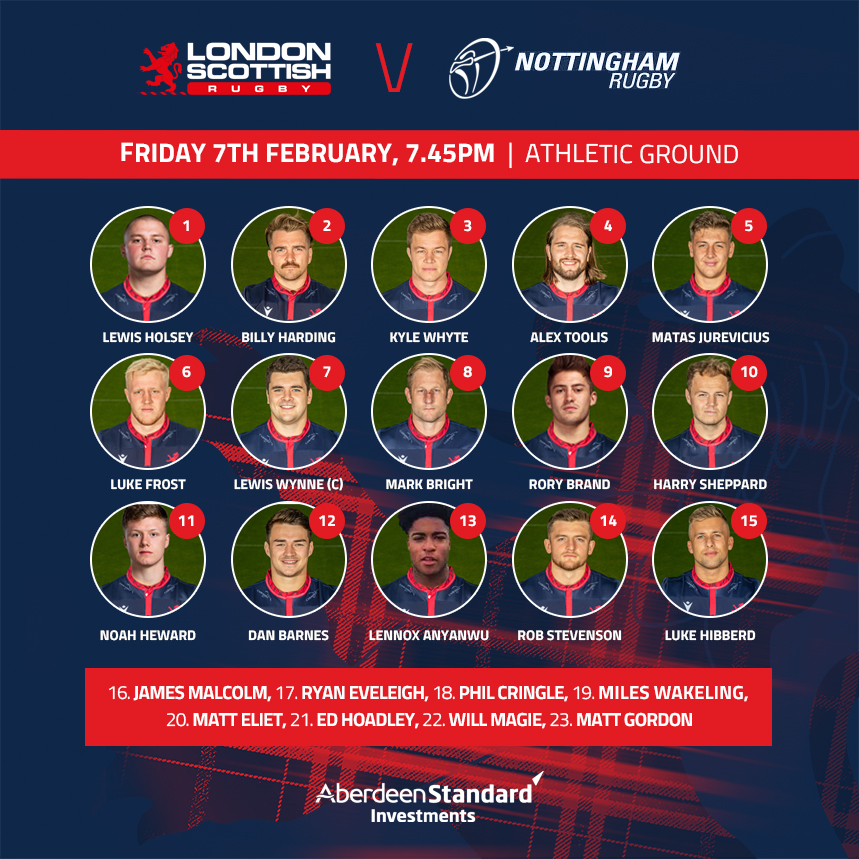 London Scottish have made six changes to the starting line up ahead of tomorrow evening's match against Nottingham under the lights at the Athletic Ground, kick off 7:45.
Lewis Holsey starts ahead of Ryan Eveleigh at loose-head prop, Billy Harding gets the nod ahead of James Malcolm at hooker and Kyle Whyte returns to start at tight-head prop ahead of Phil Cringle – in the final change to the forward pack. Eveleigh, Malcolm and Cringle dropping to the bench.
Rory Brand comes in at scrum-half, whilst another two players have been brought in on loan: Worcester and England U20s player Noah Heward comes in to replace Craig Duncan on the left wing, whilst Harlequins player Lennox Anyanwu comes in for Bobbie Beattie at inside centre. Beattie having failed a HIA test.
On the replacements bench Matt Gordon returns from injury, alongside Matt Eliet who missed out last week through an HIA. They'll look to make an impact alongside Ed Hoadley, Will Magie and Miles Wakeling.
On tomorrow's opposition, club captain Lewis Wynne said: "We've played Nottingham three times this season, which makes preparations for the match a little easier. All the boys already have their notes on them and know what they're going to come up against.
"Nottingham in their game last week came out and scored a lot of tries. They're a really good side, so it doesn't matter how much we've played them every game is different.
"We're just looking to improve on what we've done before, because they've beaten us twice on the road and we've beaten them at home so hopefully being back at the Athletic Ground will give us that edge. It should be a fast-paced game and hopefully we can claim a victory."
This is the Scots final match under the lights this season. "The whole team is looking forward to running out under the lights one last time. Friday nights have been really good for us, we've all had a good time. It's nice to be able to have a game that all the fans can come down to watch after a busy day at work. The fans have a been absolutely amazing and they do act as that 16th man," commented Wynne
STARTING XV
15. Luke Hibberd
14. Rob Stevenson
13. Lennox Anyanwu
12. Dan Barnes
11. Noah Heward
10. Harry Sheppard
9. Rory Brand
1. Lewis Holsey
2. Billy Harding
3. Kyle Whyte
4. Alex Toolis
5. Matas Jurevicius
6. Luke Frost
7. Lewis Wynne ©
8. Mark Bright
Replacements: 16. James Malcom, 17. Ryan Eveliegh, 18. Phil Cringle, 19. Miles Wakeling, 20. Matt Eliet, 21. Ed Hoadley, 22. Will Magie, 23. Matt Gordon