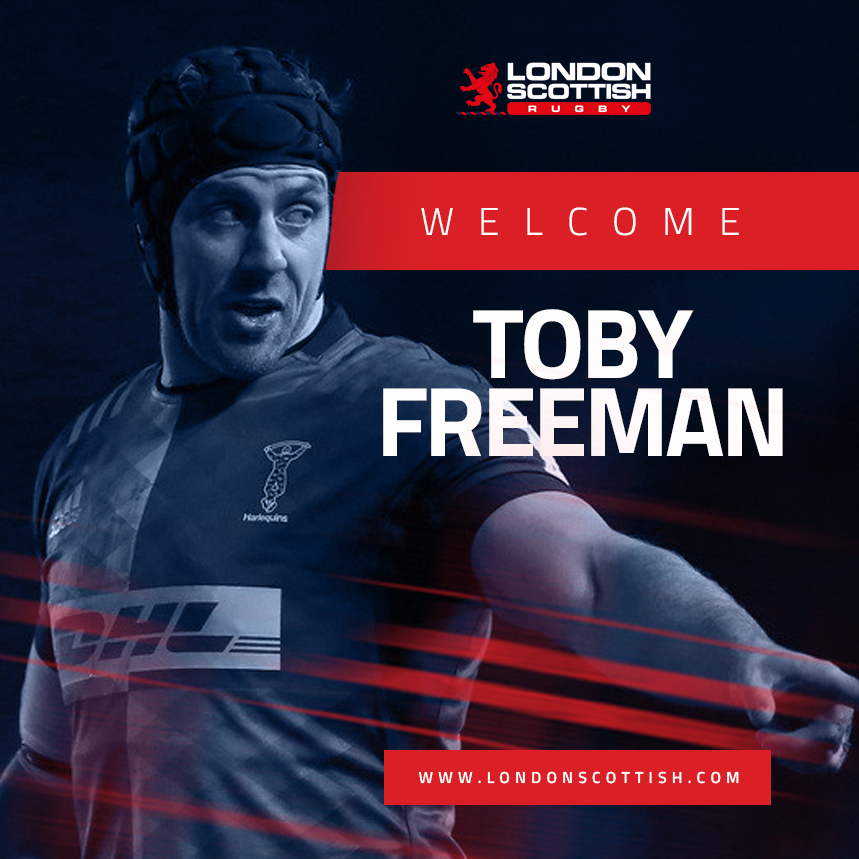 We are delighted to sign Toby Freeman, a player who has made over 100+ appearances in the Championship, ahead of the 2020/21 season.
The powerful second row forward joins us from a side who play just down the road from us at the Stoop in the Premiership, Harlequins.
Having started off his career down in Cornwall playing for Penryn, the now 32-year-old moved to Devon to study an undergraduate degree in sports science and then a masters in sports psychology at Exeter University. Whilst studying he also played for the Chiefs (2007-2010).
Once graduated, Freeman moved to Spain to play in the Basque country for AMPO Ordizia where he stayed for two years. On his return to the UK in 2012 he signed with Rotherham Titans for two seasons. He then joined up with Nottingham in 2014 before returning to Cornwall in 2017, but this time playing for the Pirates.
At the end of the 2018/19 season Harlequins came calling and Freeman signed his first Premiership contract.
On joining London Scottish Freeman said: "I feel very privileged to have been presented with this opportunity to keep playing elite rugby whilst transitioning into a new career as a financial adviser. There are a lot of guys who don't have that option to have both a rugby career and a career away from the pitch. I feel very lucky to be able to do that and also play next season at a club as well regarded as Scottish. I'm really looking forward to it.
"When I spoke with Matt Williams, despite it only being over the phone due to the current lockdown, he convinced me very quickly that Scottish was going to be the right club for me. Matt's a very enthusiastic guy and he's putting together a very competitive squad."
Looking ahead to next season and what he's looking forward to the most, Freeman commented: "I'm really excited for that home derby against Richmond. I always enjoyed playing away at the Athletic Ground and I can imagine playing there when it's packed out by two home teams is a pretty special experience. I can't imagine that there's many rugby clubs in the world who share the same ground and also play in the same competition."
Director of Rugby, Matt Williams, said: "The key focus for me in the new era of part-time rugby is to get the front five to a combative, physical state and Toby was my number one priority in the engine room. He has been a Championship stalwart for many years and will add real physicality and leadership to our pack."