Matt Williams has named another strong side for tomorrow's clash against Ampthill, which will be the Exiles's first clash of the season against fellow part time opposition.
After success in the scrum and lineout last weekend away at Doncaster, the forward pack has remained almost unchanged.
In the front row, Jake Ellwood and Joe Rees will be either side of Nick Selway, as the powerful trio go in search of more penalties at the scrum.
Behind them, James Tyas and George Hammond will continue to dominate the airways at the lineout.
The only change in the forwards comes in the back row. A slight niggle has sadly ruled out Club captain Brian Tuilagi, with Jack Ingall coming in at openside to replace him. Strong performances at Castle Park from Matas Jurevicius and Tom Baldwin see them both continue at blindside and number 8 respectively. Nick Selway will captain the side from hooker.
In the halfbacks, Ed Hoadley and Laurence May will look to control the game from nine and ten.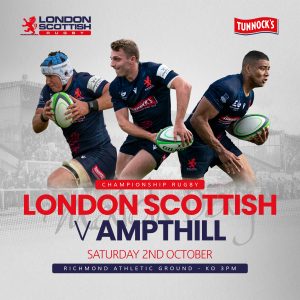 After making 100 appearances for the Mob, Sam Hanks will start against his former side and will be joined in the centres by Hayden Hyde.
In the back three, Noah Ferdinand comes in for Rory Hughes with David Halaifonua on the other wing and Leo Fielding at fullback.
Kick off tomorrow is at 3pm and some tickets are still available here, so come down and support the Clan.
London Scottish Team to play Ampthill:
15. Leo Fielding
14. Noah Ferdinand
13. Hayden Hyde
12. Sam Hanks
11. David Halaifonua
10. Laurence May
9. Ed Hoadley
1. Jake Ellwood
2. Nick Selway (C)
3. Joe Rees
4. James Tyas
5. George Hammond
6. Matas Jurevicius
7. Jack Ingall
8. Tom Baldwin
Finishers:
16. George Head
17. Maurice Nwakor
18. Curtis Reynolds
19. Edoardo Balocco
20. Will Trenholm
21. Dan Nutton
22. Rory Hughes
23. Javiah Pohe