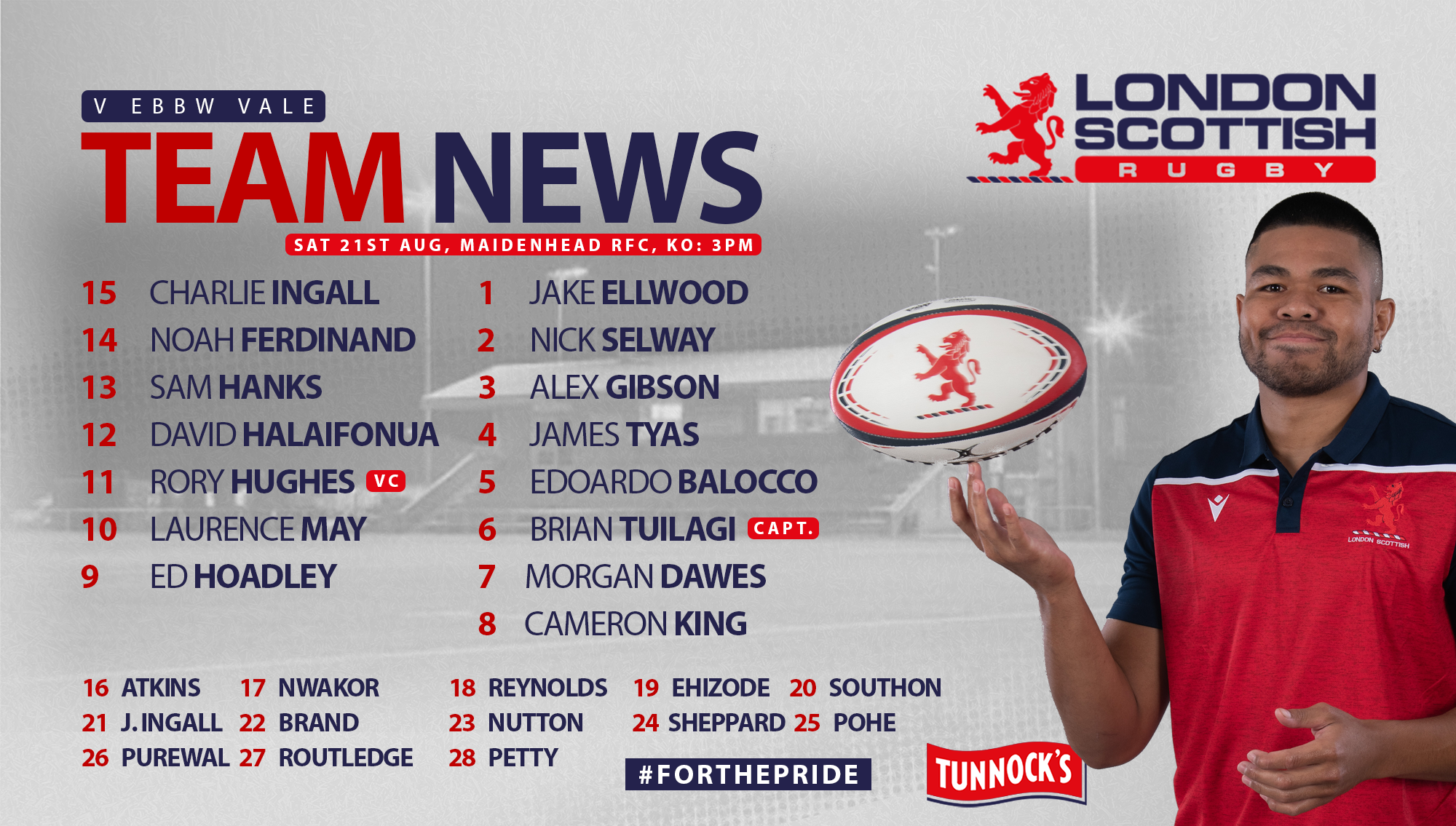 For the first time in 77 long weeks, London Scottish finally return to action tomorrow as we take on Welsh Premiership side Ebbw Vale at Maidenhead RFC.
Director of Rugby Matt Williams has picked a jam packed match day squad of 28 players as they each look to put their hand up ahead of the Championship season starting next month.
Brian Tuilagi will lead the side against Ebbw Vale, with Scottish International Rory Hughes acting as vice-captain. Jake Ellwood, Nick Selway and Alex Gibson make up an experienced Championship front row, while BUCS Super Rugby Star Edoardo Balocco and recent second-row convertee James Tyas pack down in the engine room.
Alongside Brian in the back row is the ever impressive Morgan Dawes and the agile Cameron King. Club stalwart Ed Hoadley starts at nine, with the ever experienced Laurence May at ten.
In the centres, Sam Hanks and David Halaifonua will bring the power, while fireworks won't be far away from the back three of Hughes, Noah Ferdinand and Charlie Ingall.
Among the whole host of replacements are props Maurice Nwakor and Curtis Reynolds; hookers Will Routledge and Tom Petty, second / back rowers Ehize Ehizode, Angus Southon and Jack Ingall; halfbacks Dan Nutton and Harry Sheppard and backs Javiah Pohe and Aaron Purewal.
Ahead of tomorrow's encounter, Matt Williams said; "I'm really excited to see the boys run out tomorrow! It's been a very long time coming but they've been looking really good in training and so I'm looking forward to seeing what they can do against this strong Ebbw Vale side.
"As a squad we have 15 boys unavailable due to injuries and other reasons who'll get their chance over the coming weeks, but this is about these boys putting down a marker for the starting jersey come the 18th September! Today we field a strong 28 man group which shows the depth of squad we have this year.
"There are quite a few fresh faces in the team today, some who the fans will know and some who they won't, but I'm confident that over the coming weeks they'll be names that the London Scottish faithful quickly come to love.
"The world has been a crazy place and we've really appreciated all the support of the fans over the last 18 months and the boys cannot wait to showcase our new attacking style of play tomorrow before the season gets underway in less than a month!"
Team to play Ebbw Vale (shirt number in brackets if different to listed number):
15. Charlie Ingall
14. Noah Ferdinand
13. Sam Hanks
12. David Halaifonua
11. Rory Hughes (vc)
10. Laurence May
9. Ed Hoadley

1. Jake Ellwood (number 3)
2. Nick Selway
3. Alex Gibson (number 1)
4. James Tyas
5. Edoardo Balocco
6. Brian Tuilagi (c)
7. Morgan Dawes
8. Cameron King

16. Ben Atkins
17. Maurice Nwakor
18. Curtis Reynolds
19. Ehize Ehizode
20. Angus Southon
21. Jack Ingall (duplicate number 16)
22. Rory Brand (number 21)
23. Dan Nutton (number 22)
24. Harry Sheppard (number 23)
25. Javiah Pohe (duplicate number 18)
26. Aaron Purewal (duplicate number 14)
27. Will Routledge (duplicate number 2)
28. Tom Petty (duplicate number 3)
Players unavailable; Sam Baker, Tom Baldwin, Ben Charnock, Mark Cooke, Leo Fielding, Joe Rees plus many duel registered players
If you haven't already, tickets for the game against Ebbw Vale are still available here or can be bought on the door. Kick off is at 3pm and the game will be held at our training base, Maidenhead RFC.