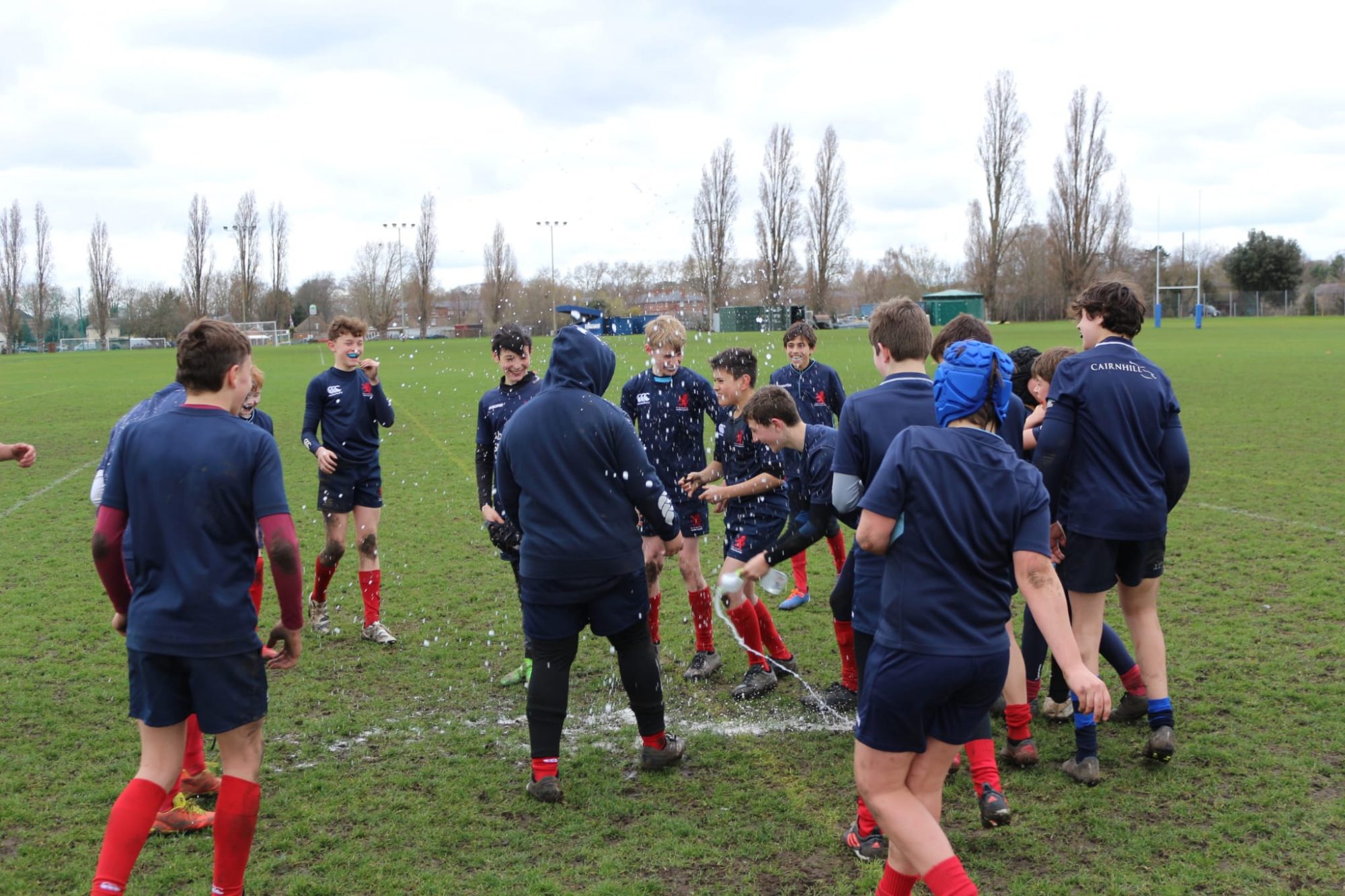 London Scottish U13s last game of the Surrey League looked like a really tough game on paper, playing against London Irish Bs. There was great support from both sets of fans, with parents, grandparents, and other relatives there to shout on the boys. Cameron, who was a late withdrawal due to sickness, came down to support the boys which was great to see!
London Scottish started the better of the two teams with a number of nicely worked passages of play that stretched the away team's defence, with Jodh making good metres early on. It was not too long before Scottish scored their 1st try, and it was Seb (who had an action-packed match) touching down after a few minutes on the clock.
Soon afterwards, London Scottish doubled their lead with good passing through the hands from Patrick to Elliot, who put Rafael away to make it 2 tries to nil. Any notion that this was going to be a one-sided game was dispelled after London Irish bounced straight back. Following some patient periods of possession and after the referee penalised Scottish for a high tackle, they took it quickly and made it 2-1.
Scottish responded very well with some great individual work from Elliot. He first ripped the ball free and then used a combination of great footwork and pace to run the length of the pitch to score a great try for the home side. 3-1 Scottish.
Scottish then had further disruption when Captain Patrick went off injured, which resulted in a reshuffle to the starting team. Irish (who were also playing downwind) enjoyed a great spell of territory in the 2nd part of the 1st half. They scored two tries in this period and had another try held up over the line due to great work from Rupert – this is becoming his trademark!
So, Scottish went into half time 3-3 on the scoreboard with most of the momentum with the away side. The Scottish boys were going to have to dig deep in the 2nd half if they were to maintain their unbeaten record.
But whatever was said at halftime did the trick, as the boys came out very strong in the 2nd half. Rafael made it 4-3 to the home side, which was followed by a brace of tries from Rupert to give Scottish some comfort on the scoreboard. 6-3 Scottish!
But London Irish would not lie down as they came back very well and scored two well-worked tries to make it 6-5. The Irish team and supporters were full of energy now, and there was lots of nail-biting from the Scottish fans.
However, the Scottish boys have shown great resilience this season, and they bounced right back to score the decisive try. After great play from Liam doing lots of damage down the right with his hard running, a few phases later, the ball was switched from right to left, and an absolutely superb pass from Seb put Rafael away down the short side to touchdown. 7-5 Scottish!
The final play of the game saw Rafael making a great tackle to stop London Irish from scoring a consolidation try. The referee then blew the final whistle, which triggered the London Scottish boys and their fans to shout for joy! A very hard-fought victory in which London Irish played a big part in a game played in great spirit.
Forwards: Daniel, Emre, Ismail, Rafael, Gaston, Mark, Liam, Max, Kuzey, Patrick (c)
Backs: Rudy, Gregor, Cameron, Elliot, Rupert, Seb, Jodh, Henry