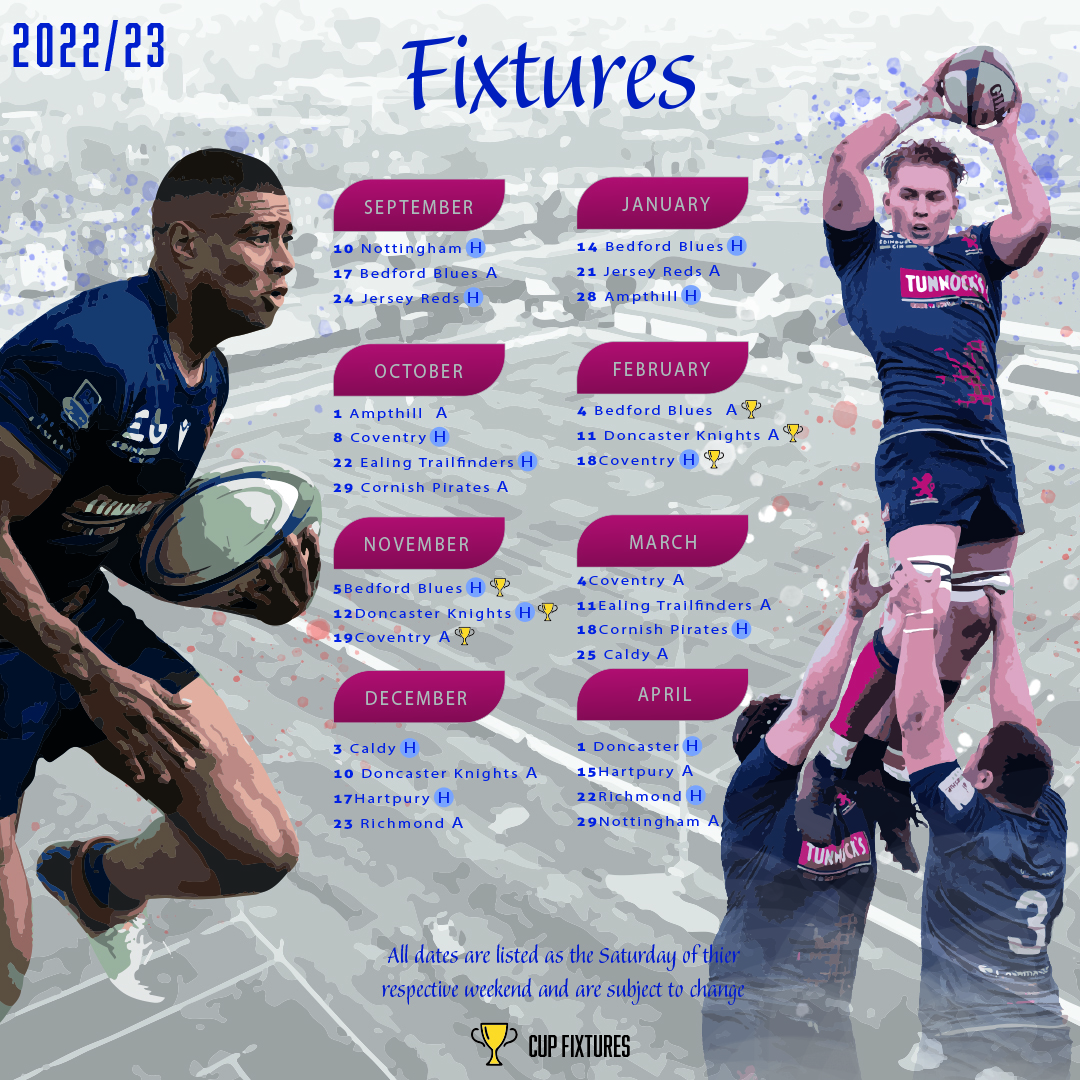 London Scottish will kick off the 2022/23 season by welcoming Nottingham Rugby to the Athletic Ground on the weekend of the 10th September.
The first block of fixtures will see trips to Bedford Blues and Ampthill, while the Exiles host Jersey Reds and Coventry.
The festive fixture will be the ever popular RAG derby against Richmond, with the reverse game coming in the penultimate week of the season.
The Championship Cup is also making a return, however there is a slight change of format with three groups of four replacing last year's knockout system. The Exiles have been drawn against Bedford Blues, Doncaster Knights and Coventry and will play each team in their group home and away, once during the first cup window in early November, and once during the second window in February.
The semi-finals and final for the Championship Cup will take on the weekend of 6th May and 13th May respectively.
The widely new squad and new coaching team of Bryan Redpath as Director of Rugby and Joe Gray as Head Coach, will get their first runout in a preseason game at the RAG in August before travelling up to play Edinburgh on Friday 2nd September, just one week before the season kicks off.
The full fixture list is as follows:
10/9 Nottingham (H) 
17/9 Bedford Blues (A) 
24/9 Jersey Reds (H) 
1/10 Ampthill (A) 
8/10 Coventry (H) 
22/10 Ealing Trailfinders (H) 
29/10 Cornish Pirates (A) 
5/11 Bedford Blues (H) – Cup 
12/11 Doncaster Knights (H) – Cup 
19/11 Coventry (A) – Cup 
3/12 Caldy (H) 
10/12 Doncaster Knights (A) 
17/12 Hartpury (H) 
23/12 Richmond (A) 
14/1 Bedford Blues (H) 
21/1 Jersey Reds (A) 
28/1 Ampthill (H) 
4/2 Bedford Blues (A) – Cup 
11/2 Doncaster Knights (A) – Cup 
18/2 Coventry (H) – Cup 
4/3 Coventry (A) 
11/3 Ealing Trailfinders (A) 
18/3 Cornish Pirates (H) 
25/3 Caldy (A) 
1/4 Doncaster Knights (H) 
15/4 Hartpury (A) 
22/4 Richmond (H) 
29/4 Nottingham (A)
6/5 Championship Cup semi-final
13/5 Championship Cup final
Please note: currently all dates are the Saturday of their respective weekend and are subject to change.